Rome Hotels
Rome, Italy, served as the seat of the Roman Empire and was the wealthiest and most powerful city in the world for almost 1,000 years. Though the Roman Empire has long since fallen, the glory of Rome shines on. It's impossible to experience Rome independent of its breathtaking history. Art, culture, and religion provide a diverse landscape of attractions to experience as you explore the city.
Things to See
Rome's highlights are numerous and legendary. It's nearly impossible to experience it all in a single visit, but some favorites stand out as must-sees that should top your list. The Colosseum's massive circumference of 573 yards makes it difficult to miss. Legend has it that Rome will stand so long as the Colosseum does. Expect long lines to get inside the Colosseum; show up early if you can.

The nearby Roman Forum is another essential stop, particularly for those with a fascination for the intrigues of ancient Rome. The Roman Forum once housed the senate building as well as numerous temples, basilicas, and triumphal arches, the remains of which can be seen today. This attraction is free to explore, though it's worth investing in a guided tour or recorded audio tour for a more in-depth look.

The Roman Pantheon's aesthetic appeal is immediately apparent, but this is an important cultural structure as well, as it was the first Roman temple constructed for the common man. Today it is a national mausoleum housing Renaissance greats like Raffaello.

Rome's art is as famous as its history, and no
visit to Rome is complete without a visit to some of its museums and galleries. In the Vatican Museums you can see the Sistine Chapel, Greek and Roman sculptures, and an extensive collection of paintings. The Musei Capitolino houses world-renowned sculptures like the Capitoline Venus. Though small, the Galleria Borghese offers a breathtaking collection of paintings by Raphael and Caravaggio. The Palazzo Altemps in the National Roman Museum features 104 sculptures in the Boncompagni Ludovisi collection alone.

As you will no doubt discover, some of Rome's most stunning sculptures are found in their original homes and not museums. The Trevi Fountain features Carrara marble statues against a travertine façade. Toss a coin in and legend has it the fountain may just draw you back to Rome.

For shopping and dining, your best strategy is to explore the city on foot. Stroll from the Piazza Navona through Campo de' Fiori to the Piazza Farnese and Ponte Sisto crossing the Tiber River. Explore the Via del Corso from Piazza Venezia to Piazza del Popolo. A meandering tour of Rome can always yield new and exciting discoveries.
Hotels in Rome
Rome hotels are as stunning and elegant as the city itself. This extremely walkable city's most breathtaking highlights are often just steps away from your accommodations. Don't be surprised to find four- and five-star hotels just a quick stroll away from prime points of interest. You'll find many chain hotels in Italy that boast the same names you've come to recognize and trust around the world. While this provides a welcome sense of familiarity, rest assured that even chain hotels in Rome take on a distinctive air that's appropriate to the rich culture surrounding them.

Look for amenities like rooftop terraces with breathtaking views of the city or luxurious on-site spas where you can relax as your cares are massaged away. In the summer months, Rome is warm enough to enjoy an outdoor pool, but this amenity loses its appeal in winter, so plan accordingly.

You have no need to drive in Rome, so you'll find many Italy hotels that cater to travelers without their own transportation. Airport shuttles directly to your hotel are relatively easy to find. If you choose to rent a car for excursions outside the city, make sure your hotel offers affordable parking, as you won't always find parking as a standard amenity.
Where to Stay
As previously mentioned, Rome is a city you'll want to explore on foot. To streamline your travel agenda, choose a hotel near your favorite highlights. Whether you want to stay near St. Peter's Basilica, San Giovanni, or the top of the Spanish Steps, you can find accommodations that fit your plans. Rome is busiest in the summer months, from June to September. If you're planning to visit during this peak season, book well ahead of time to make sure you snag a good room.

For a cheaper vacation, head to Rome during the shoulder season of April and May, or score real deals in the chillier off-season from October through March. These months are ideal for finding lower hotel prices, shorter lines, and more open tables in Rome's fine restaurants.
How to Get to Rome
Rome's major airport is the Fiumicino Airport, also known as the Leonardo da Vinci Airport. Sixteen miles southwest of Rome, this airport is just a 30-minute train ride from the city. Ciampino Airport is a budget alternative to Fiumicino. Frequent buses offer an efficient way to get from Ciampino into the city. The trip takes about 40 minutes.

Be wary of taxis in Rome due to occasional reports of unscrupulous drivers preying on unknowing tourists. White vehicles with a taximeter are the only authorized taxis in Rome. Though you can rely on these in a pinch, they're very costly, and you'll typically find a trip by bus or rail just as efficient.

Once inside Rome, the subway, buses, and trams can get you around when you don't want to walk. These are affordable options for covering long distances, but never underestimate the appeal of a walk around Rome. You'll often make some of your best discoveries by accident as you meander through the city.

With over 280 fountains, 900 churches, and dozens of museums, Rome offers a dizzying landscape of delights. Find the perfect hotel for your adventures in Italy with InterContinental Hotel Groups' (IHG®) collection of luxurious destinations. From continental breakfasts to cozy complimentary robes, you can find the perfect set of amenities to complement your Roman vacation.
+ View More
- View Less
Displaying 8 Hotels in

Rome
More IHG Hotels in Rome, Italy
InterContinental De La Ville Roma
If you are coming to Rome for a visit of the Eternal City, or just for a business trip, you won't find an accommodation better than De La Ville Roma. This hotel is located in the heart of the City,at the top of the Spanish Steps The best attractions and the best shops are just few metres away. Inside you will find the high classic standards of IHG combined with the unique warmth of Italian people.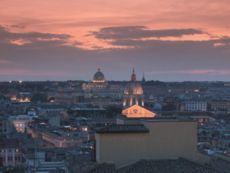 Via Sistina 69, Rome, 00187, Italy
Hotel Reservations : 1 877 424 2449 | Hotel Front Desk : 39-06-67331
Hotel Indigo Rome - St. George
Free Wi-Fi throughout the hotel. During summer, restaurant and bar move up to the roof top terrace with 360° view over the eternal city. If the sun is shining enjoy your breakfast in our internal courtyard and upon return to the hotel, dedicate a few hours to a relaxing experience at our boutique Spa. Fully no smoking hotel.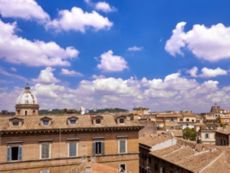 Via Giulia 62, Rome, 00186, Italy
Hotel Reservations : 1 877 424 2449 | Hotel Front Desk : 39-06-686611
Holiday Inn Express Rome - San Giovanni
The Hot Breakfast Buffet is always complimentary and is our way to thank you for choosing us. The buffet offers a choice among over 100 products, many of them freshly home-made such as pies or croissants. We have also a private garage on the basement of the hotel for a daily fee of € 12,00 per car or € 6,00 per motorbikes. Do not forget the City Centre is forbidden to the private cars.
Via Assisi 51, Rome, 00181, Italy
Hotel Reservations : 1 877 424 2449 | Hotel Front Desk : 39-06-784692
Holiday Inn Express Rome - East
Ask our helpful front desk team about any informations you may need during your stay and feel free to ask them to arrange city tours, museum visits, airport transportation or more.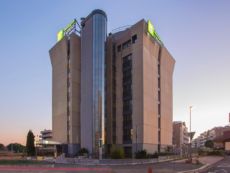 Via Giorgio Perlasca, 50, Rome, 00155, Italy
Hotel Reservations : 1 877 424 2449 | Hotel Front Desk : 39-06-94440000
Crowne Plaza Rome - St. Peter's
Unwind at Crowne Plaza Rome-St Peter's with our Roman Wellness Dream Package. Adults and children over 16 can take advantage of discounted treatments and massages in our shimmering spa, as well as complimentary bathrobe, slippers and spa kit.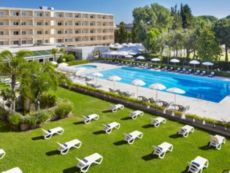 Via Aurelia Antica 415, P.O.Box 9076, Rome, 00165, Italy
Hotel Reservations : 1 877 424 2449 | Hotel Front Desk : 39-06-66420
Holiday Inn Rome - Pisana
Located in a ideal position, the hotel is the perfect base to explore the eternal city and also for business travelers looking for a comfortable and easy to reach hotel from which to move easily to the major points of interest of Rome.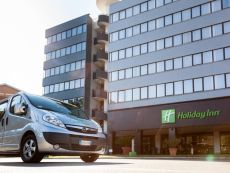 Via della Pisana 374, Rome, 00163, Italy
Hotel Reservations : 1 877 424 2449 | Hotel Front Desk : 39-06-40046900
Holiday Inn Rome - Aurelia
Shuttle bus is available to the metro station Battistini line A to visit Rome without worry of traffic. Guarded car park is available for a moderate daily fee of € 5.00. Enjoy our outdoor swimming pool, bar and restaurant services on the pool area during summer time. Our reception is available to help you plan your visit to Rome; ask them for the schedule of our shuttle.
Via Aurelia Km 8,400, Rome, 00163, Italy
Hotel Reservations : 1 877 424 2449 | Hotel Front Desk : 39-06-66411200
Holiday Inn Rome - Eur Parco Dei Medici
Completely renovated 4* hotel, conveniently located for business and leisure travellers, from the minute you step through our doors you will feel welcome! Rooms are spacious and stylishly decorated. It offers facilities like outdoor swimming pool, fitness center/sauna, free Wi-Fi and a shuttle service from both FCO Airport and metro Eur Magliana. Restaurant, Bar and a functional Conference Center.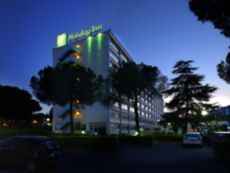 Viale Castello Della Magliana 65, Rome, 00148, Italy
Hotel Reservations : 1 877 424 2449 | Hotel Front Desk : 39-06-65581