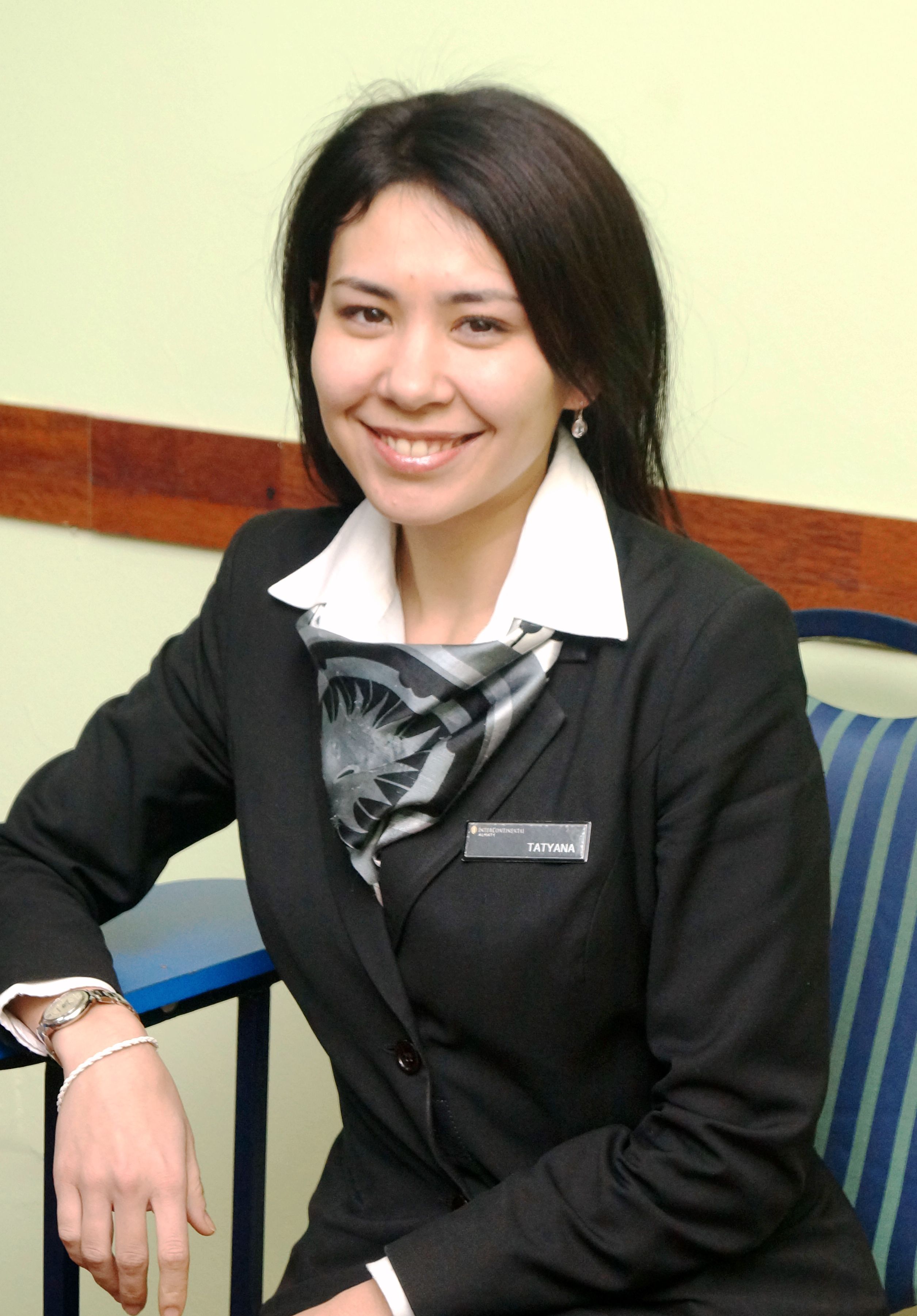 Zhumasheva Tatyana
Chief Concierge 772725050004
Welcome To Almaty
Welcome to InterContinental Almaty. Our Concierge team and me personally are very glad to greet you on our web site and hope to see you in our wonderful city Almaty.We are ready to share our experience with you to make your stay truly unforgettable.
277 spacious hotel guestrooms and suites. All of our rooms offer a large working desk, Free WiFi @ 1024 kbps, luxurious amenities, and feather comforters. Luxurious bathrooms featuring large bathtubs, weight scales, a hairdryer. Rooms have a safe deposit box enhanced with a recharging plug, enabling our guests to charge their portable devices while keeping them inside the safe box. All guests staying in the hotel have a complimentary access to Spa InterContinental.
MORNING

If you are visiting Almaty, you shouldn't miss out on the opportunity to visit the Central State Museum of Kazakhstan. Consisting of seven exhibition halls, the blue-roofed museum traces the colourful history of Kazakhstan from the very beginning of time, right through the mass migration of people to the impetuous events of this century and the present day, and is a great place to spend a morning. From there you can go down by Furmanov Street, away from the museum, to the pleasant Republic Square with its Independence monument and former Residence of the President . Not far from the hotel there are Gakku and Tubeteika restaurants where you could stop for breakfast and try Baursaki, the local Kazakh fried bread.

AFTERNOON

The afternoon is the best time to visit the picturesque valley of Medeo, about 15km away from Almaty. Besides its beautiful natural setting this is where you'll find the world's highest mountain speed skating rink in an Olympic-size ice stadium where more than 180 world records have been made. There is also a huge dyke here, created to protect the city from mud slides. The dyke's reservoir holds an impressive 12,600,000 cubic metres of water. On your way back to the hotel you could stop at the Alasha restaurant for some local Kazakh food.

EVENING

Koktobe is the mountain right in the centre of the Almaty and from its summit you get the best panoramic views of the city. In the evening ride the cable car up from Satpaeva and Dotstyk. It takes just five minutes to ascend to the observation point and back-to-back costs 2000 Kazakh Tenge. There are three restaurants up here and one of them, Grill Bar, is situated just on the edge of the mountain so you can enjoy spectacular views while you eat. In addition there are several small boutiques and an art gallery to browse through, with souvenirs to buy.
LOCAL CULTURE

BAZAARS AND MARKETS

Please remember that it is quite normal to bargain and haggle in the bazaars and markets




BREAD

Please remember that bread is regarded as a sacred food in Kazakhstan and should be treated and eaten with respect.




DINING WITH LOCALS

If you are invited out to dinner with local people be ready to try delicious sorts of meat, fish, and poultry: beef, mutton, salmon, trout, chicken, duck. It is worth noting that the traditional Kazakh diet comprises a lot of meat, including horsemeat, and both horse and camel milk.




GIVING FLOWERS

Flowers are a popular gift in Kazakhstan. However, you should only offer bunches of flowers in odd quantities.




POPULATION

The population of Almaty is culturally very diverse. Although the official spoken language is Kazakh, Russian is used just as much. Most people speak English but it is a good idea to carry a phrase book with you.




DID YOU KNOW ?

Almaty's name

The name Almaty comes from Alma-Ata, and literally means father apple.




Ancient shopping

The Green Bazaar is one of the most famous and oldest bazaars in the city. The experience of buying fragrant fresh fruit and vegetables, spices and dried fruit has hardly changed over the centuries.




Medeo

Medeo is an area of outstanding natural beauty and home to the world's highest mountain speed skating rink. Only 30 minutes away from the hotel.




The city

Almaty is the former capital city of Kazakhstan and is the country's largest city. It is also the cultural and financial centre of the country. The variety of entertainment available here attracts people from throughout Kazakhstan and reinforces the city's multi-cultural population.




WHAT TO PACK

Clothing

In summer, although the days are very hot, the evenings are much cooler. It makes sense to ensure you bring some warmer clothes with you, especially if you are planning to visit the Tian Shan mountains, where it can get very cold at times. In winter period temperature varies from -5C to -20C. Very good to bring warm shoes and coat (fures) with you. The rest seasons are quite warm, but it's raining from time to time, so with a high level of humidity, which is normal for Almaty, temperature falls.




Local tax

Value Added Tax (VAT) is 12 per cent. There is no airport tax to pay.




Money exchange

Please remember to always carry some Kazakh tenge with you. The local shops, restaurants and bars do not accept any foreign currency. Majority of places accept credit cards.




Phrase book

It is good to have a phrase book with you. Though the majority of the population speaks basic English.




Registration

On arrival in Kazakhstan the customs police will stamp your registration form twice. You need to keep this with you until you leave the country. Hotel provides registration service additionally.



InterContinental Almaty
181 Zheltoksan Street

Almaty

,

050013

Kazakhstan

Front Desk

+7-727-2505000
Languages spoken by staff
German, English, French, Hungarian, Korean, Dutch , Russian, Turkish
Pet Policy
Pets are not allowed, only guide dogs are allowed. There is a pet walking area within the hotel territory and nearby the hotel.