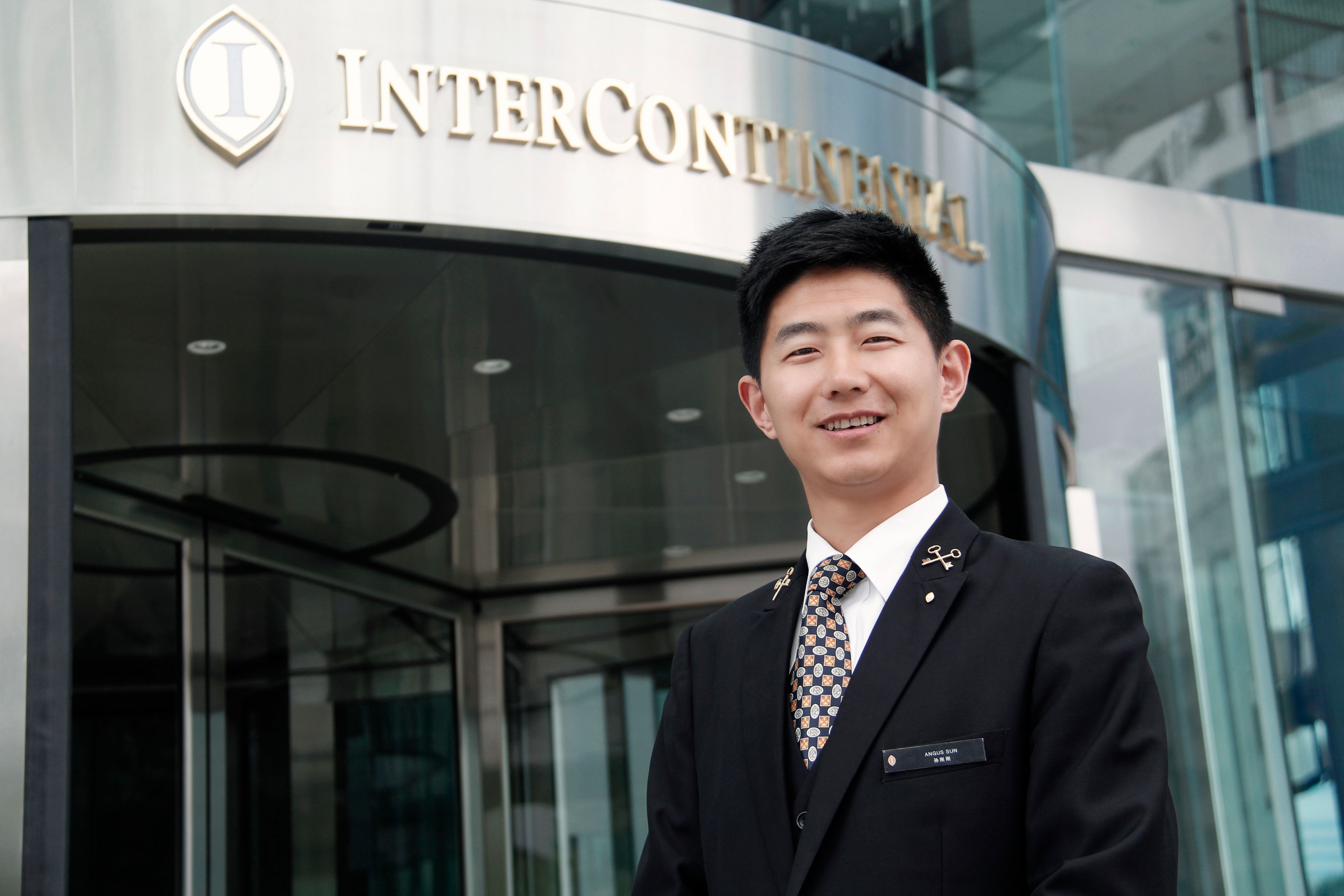 Angus Sun
Chief Concierge 86591861288888915
Welcome To Fuzhou
A warm welcome to InterContinental Fuzhou! I'm the chief concierge Angus Sun. My concierge team and I are ready to provide you with a special experience and we look forward to giving you a memorable journey in Fuzhou with our professional knowledge and sincere service.
We are more than pleased to show you the most special corners around the city, be it the bustling antique street, a exquisite local restaurant, a historical garden or simply a tea house around the corner. We are here to explore the excitement of the city with you.
MORNING

Catching the first morning rays, jogging along the route that we have specially prepared for you in Chating Park, breathing the fresh air, listening to the birds' twitter … what a wonderful day! Having a break from the hustle and bustle of the big city and getting back to peace and nature – it's much better than the Peach Garden. After the breakfast, you can walk to the lobby lounge, get brightened by a ray of sunshine cast through the dome and enjoy a cup of jasmine tea, and here comes a relaxed and delightful day.

AFTERNOON

Within only 20 minutes' drive from hotel we will reach the famous historical and cultural resort of "Three Lanes and Seven Alleys". Covering a total area of about 40 hectares, this resort consists of three lanes, seven alleys and one central street, namely Yijin Lane, Wenru Lane, Guanglu Lane, Yangqiao Alley, Langguan Alley, Ta Alley, Huang Alley, Anmin Alley, Gong Alley, Jipi Alley and Nanhou Alley. Constructed in Jin Dynasty and renovated in Tang Dynasty, these ancient blocks have been well preserved and praised as the only "living fossil" of ancient lanes & alleys ever found in cities. Within these lanes and alleys there are more than 200 buildings which used to be the residences of such famous Fujian natives as Lin Zexu, Shen Baozhen, Yan Fu, Chen Baochen, Lin Juemin, Lin Xu, Bing Xin, Lin Shu, etc, who had left their glorious footprints in the sands of the modern and contemporary history of China. Strolling around the lanes, you may feel like going back to the old times, observing their daily livings and getting acquainted with their hobbies and legends. Next to these blocks stands the Wushan (Black Stone) Mountain. It's told that in Han Dynasty, nine brothers from He Clan used to climb up this mountain and shoot the crows. Therefore, it's also called "Crow-Shooting Mountain". This famous mountain left behind many historical relics, with Black Tower and cliff inscriptions being the most valuable ones. Wushan Mountain is also the gateway for you to explore Fuzhou.

EVENING

Around the hotel there are many cultural and recreational facilities, restaurants in different styles, teahouses, bars, cinemas and theaters. When the night comes, you can walk from hotel to Wuyi Square and feel the charm of local cultural and recreational activities. You may also choose to stroll along Min River and go on an evening cruise to feel the eternal beauty and tranquility of Fuzhou's night. What a wonderful day for a deep immersion into the history and culture of Fuzhou under its modernized exterior.
LOCAL CULTURE

Tipping used to be very rare in China but now no doubt through western influence the idea is catching on. In restaurants a 3% tip is standard, bellboys and room service staff expect roughly $1or $2. You can tip in U.S dollars as hard currency is always appreciated.




Fuzhou has a humid subtropical climate influenced by the East Asian Monsoon; the summers are long, very hot and humid, the winters are short, mild and dry. The monthly 24-hour average temperature ranges from 6°C to 10 °C between January and February, and from 33 °C to 37°C between July and August, while the annual mean is 20-25 °.




Local taxi fee starting from RMB10, you can always hire one at the street side however please try to avoid rush hours during 8:00~9:30 in the morning and 5:30~7:00 in the evening.




Public bus is quite convenient in the city, there is no subway system service so far it is estimated to be operated the first line in 2016.




DID YOU KNOW ?

Chinese Valentine's day

Qi Xi is celebrated on the seventh month of the seventh day. It commemorates the impossible romance between the fairy or weaving maid and the cowherd, two stars on either side of the milky way who are only permitted to meet on this one night a year. So, have a memorable arrangment with your lover.




Min Cuisine

Fuzhou dishes are representative of the Min Cuisine that is very much a feature of Fujian Province and is one of the Eight Major Cuisines of China. Min, (which is short for Fujian Province), has its own unique style that has evolved over a very long period of time and each of the various recipes are very precise with an emphasis placed on their savory sauces. These sauces are mild and of a sweet and sour nature, combine into wonderfully appetizing dishes.




WHAT TO PACK

Medicine

If you require special medicine please make sure you bring along enough and leave it in your hand luggage since bags still regularly get lost at airports. Chinese pharmacies do not trade to many international pharmaceuticals so it is safer to bring along your own.



InterContinental Fuzhou
No.108 Guangda Road

Fuzhou

,

350005

China, People's Republic Of

Front Desk

+86-591-86128888