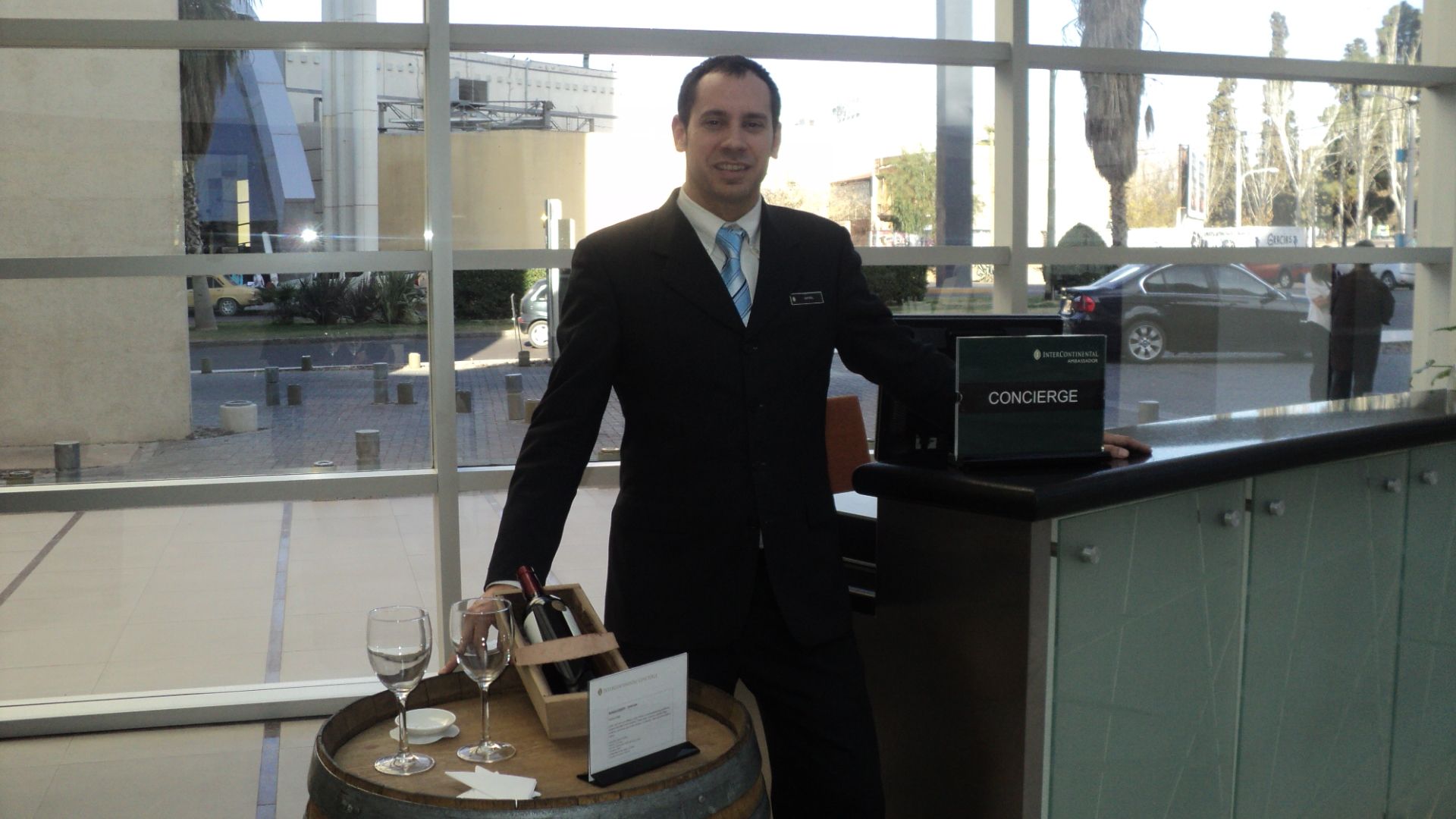 Daniel Alonso
Concierge 542615218887
Welcome To Mendoza
Welcome to InterContinental Mendoza. Our concierge staff are pleased to assist you in creating lasting memories. Traveling through our wineries, experiencing mountain sports or enjoying our excellent cuisine, welcome to one of the Great Wine Capitals of the Wolrd!
InterContinental Mendoza is located in front of the largest shopping Mall in Mendoza, with easy access to the winery regions. The hotel is only 15 minutes away from the International Airport and 5 minutes away from the city. The Congress & Convention Center facilities is one of the largest in Argentina. The hotel´s 180 guest rooms and suites specially designed for a pleasant stay. All our rooms have a spectacular view of the mountains and the city.
MORNING

The ideal start to any day in Mendoza is with an excellent breakfast at Olivas. Then you can take an eco-walking tour through the city's main park. After taking in some of the sights and sounds of the park stop off at the Cerro de la Gloria, a statue that is well known throughout all of Argentina. From a top of the hill where the statue is located you will have stunning views over the city and it's surrounding countryside as well as of the Andes Mountains. Visit the city's zoo, a place loved by Mendocinos young and old. Stroll through any of our five squares as each has its own unique style before enjoying a coffee in the Peatonal, a pedestrian street which is the heartbeat of the city and of Mendocinian life.

AFTERNOON

Take a horseback ride through the countryside and allow your senses to be amazed by the sights and sounds as you take in the scenery and mountain air Then enjoy wine tasting at one of our many acclaimed and historical wineries. There you will learn about the journey of the wine from the vineyard to the cellar and eventually on to your glass. Listen as the wine makers explain about the history of the winery, the processes used in the past and today as well as the best way to age the perfect wine. Don't forget to try some of the samples. After that you can lunch or take a coffee at de the winery with an amazing view!

EVENING

To finish a perfect day in Mendoza it is an absolute must to watch the sun setting over the Andes mountains. Don't forget your camera as this is a moment you will most definitely want to capture. Choose from a selection of typical restaurants and order an enormous rib-eye steak or a perfect pasta, or you maybe will be deleite with our asado, best shared with a bottle of Malbec whilst taking a performance of the famous Argentine tango. If you dare you can dance too!
LOCAL CULTURE

Nap Time

From 1pm to 5pm is "siesta time" (nap time). During these 4 hours many shops and public places will be closed and then re-open until about 9pm. Nap time is when the city literally sleeps.




Asado

Is a technique for cooking cuts of meat, usually consisting of beef alongside various other meats, which are cooked on a grill (parrilla) on open fire. It is considered the traditional dish of Argentina and is often shared among friends and family. It is a is a delicious meal and also a very important part of Argentine culture.




DID YOU KNOW ?

Great Wines Capitals

In 2005 the city of Mendoza was named as one of the "8º Great Wines Capitals of the World". And in 2010 "Wine" was declared a national drink in Argentina.




The Acequias and Trees

The city's canals (known as acequias locally) play a crucial role in the survival of the city as well as providing it with its numerous and diverse range of trees. Trees are fundamental to Mendoza and can be found in every corner of the city. However, Mendoza is located in the desert and the trees are only able to flourish here due to the ingenious irrigation system that goes back to pre-Hispanic time. This system has been maintained and is still in use today.




The Aconcagua

The region's most famous park is Parque Provincial Aconcagua, home of the 6962m (22841ft) Cerro Aconcagua, the highest peak in the Western Hemisphere and a favorite destination for climbers. Reaching the summit requires a commitment of at least 13 to 15 days, including acclimatization time.




WHAT TO PACK

City without umbrellas

Mendoza is well known for its very agreeable climate, we enjoy more than 300 days a year with clear blue skies. The rainfall is very scarce, an annual average of 200ml. If you are planning to visit us from March to August, be aware that temperatures may decrease below 0º C, so pack some winter cloth and get ready to be amaze with our landscape. And during the summer season, the average temperature from September to February ranges from 17 º to 33 º. We also have a famous wind called Zonda, is a warm, dry and very stuffy wind that blows a few times a year, usually between May and October.



InterContinental Mendoza
Blvd Perez Cuesta Esq. Acceso Este

Mendoza

,

M5521AAR

Argentina

Front Desk

+54-261-5218800
Languages spoken by staff
English, Spanish, French, Portuguese
Pet Policy
Pets are not allowed at the hotel. However, animals specially trained to assist blind people are permitted but they are requested to give prior notice of ther arrival. Extra charges concerning the dogs special requests will be added to the guests bill.