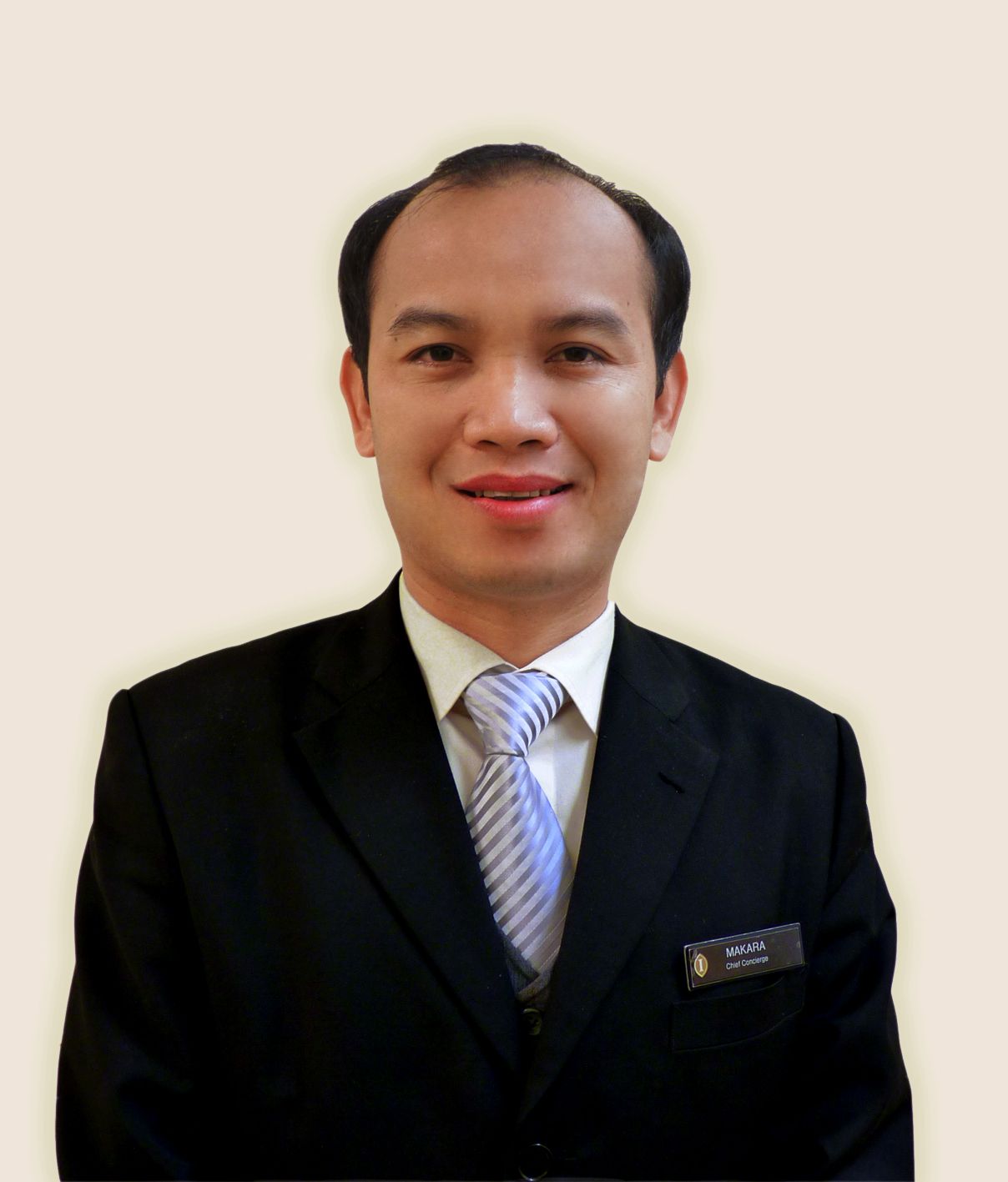 Muth Makara
Chief Concierge 85523424888
Welcome To Phnom Penh
It is with pleasure that we welcome you to InterContinental Phnom Penh. My concierge team and I are honoured to have you with us. We are here to ensure that all your needs are met and that you will return to InterContinental Phnom Penh your home in Cambodia.
Our hotel is located along Mao Tse Toung Boulevard, approximately 7 kms from the airport, 15-20 minutes by car.
MORNING

Take a stroll along the promenade and watch the sun rise over the Royal Palace. The park-lined riverfront overlooks the Chaktomuk River which joins the Tonle Sap, Mekong and Bassac Rivers. Later in the day the promenade will be awash with people, but for now you can soak up the morning sun and absorb an altogether slower pace of life, as fishermen and ferries go quietly about their work. Find a riverside cafe; that suits your mood and enjoy a leisurely coffee and croissant. As the city gets into full flow, the promenade all but disappears under a sea of people and the air vibrates to the sound of cyclos, motos and the high-pitched cries of vendors selling their wares. A people-watchers' paradise.

AFTERNOON

The aptly named restaurant Friends for Lunch is a thriving tapas bar. Not only is the food delicious the restaurant is part of a non-profit organisation that helps kids get off the street. The staff are attentive, the atmosphere friendly and the daiquiris the best in town. From here you can visit the National Museum home to the largest collection of Khmer art in the world. The courtyard is worth a visit with its classic Khmer architecture and shaded gardens. An ideal place to sit, relax and take in the atmosphere.

EVENING

Hire a river boat for a sunset cruise along the Tonle Sap and Mekong Rivers. No need to book, just turn up, find a boat, negotiate your price and off you go. Ask the boatman to drop you at the Foreign Correspondents Club (FCC). Set in a renovated colonial building overlooking the river, the FCC has lost none of its old-world charm. The second-floor terrace with its sweeping views over the promenade and river is the perfect place for a pre-dinner aperitif. In keeping with the journalistic theme you might want to visit Talking to a Stranger. This vibrant little bar in a leafy garden setting is popular with local journalists. The upstairs terrace serves tasty food.
LOCAL CULTURE

TELEPHONE

In Cambodia, cell phones are more commonly used than fixed phones. Pre-paid SIM cards are available from all the network providers. To obtain a card you'll need a valid passport with visa and proof of address in Cambodia. Alternatively you may ask a Cambodian friend with a valid local ID to come with you and register the card to their address.




DID YOU KNOW ?

Breakfast

Start off the day with a traditional Cambodian breakfast. There are four to choose from: bai sach chrouk (pork and rice); mee cha (noodles); khtieau (noodle soup) and bobor (rice porridge).




Cambodian silk

The most famous area for golden silk is Phnom Srok, on the hills above the Great Lake of Tonle Sap. Characterised by its beautiful golden colour the silk is still woven using techniques passed down from ninth-century Angkor.




Krama

A krama is a chequered scarf traditionally worn by the Khmer to separate them from their Thai, Vietnamese and Laotian neighbours. Much more than a fashion accessory the krama has a multitude of uses which include protecting your feet when climbing trees, a hammock for infants, a towel, or sarong - on occasion it's even turned into a small doll for children.




Phnom Penh

In 1373 a woman named Penh discovered five images of Buddha inside a koki tree washed up on the bank of the Mekong River. Housed in a purpose built Wat Phnom (mountain pagoda) the town that slowly grew to surround it became known as Phnom Penh which literally translated means 'Hill of Penh.'




Souvenirs

Traditional artefacts that make good souvenirs include silver boxes, often shaped as animals, which are used to store the medicinal leaves of the betel plant and hand-woven silks, some of the best of which are made using the traditional ikat methods.




WHAT TO PACK

Passport

You'll need a passport that is valid for at least six months and a visa is required for most nationalities. One-month visas can be obtained through the Cambodian embassy on arrival at the international airports of Phnom Penh and Siem Reap. A passport photo is required. E-visas are available at http://evisa.mfaic.gov.kh




US$ bank notes

The US dollar is the de facto currency throughout Cambodia. However, change will be given in riel, the official Cambodian currency. Given that the current exchange rate is around 4,000 riel to the dollar, avoid bringing anything bigger than $20 bills. Larger notes will be difficult to exchange.



InterContinental Phnom Penh
296 Mao Tse Toung Blvd

Phnom Penh

,

12306

Cambodia

Front Desk

+855-23-424888
Languages spoken by staff
English, Spanish, French, Italian, Japanese, Dutch , Tagalog, Chinese
Pet Policy
Pets not allowed in the hotel except for guided animal, which hotel needs to receive information prior to guest's arrival.