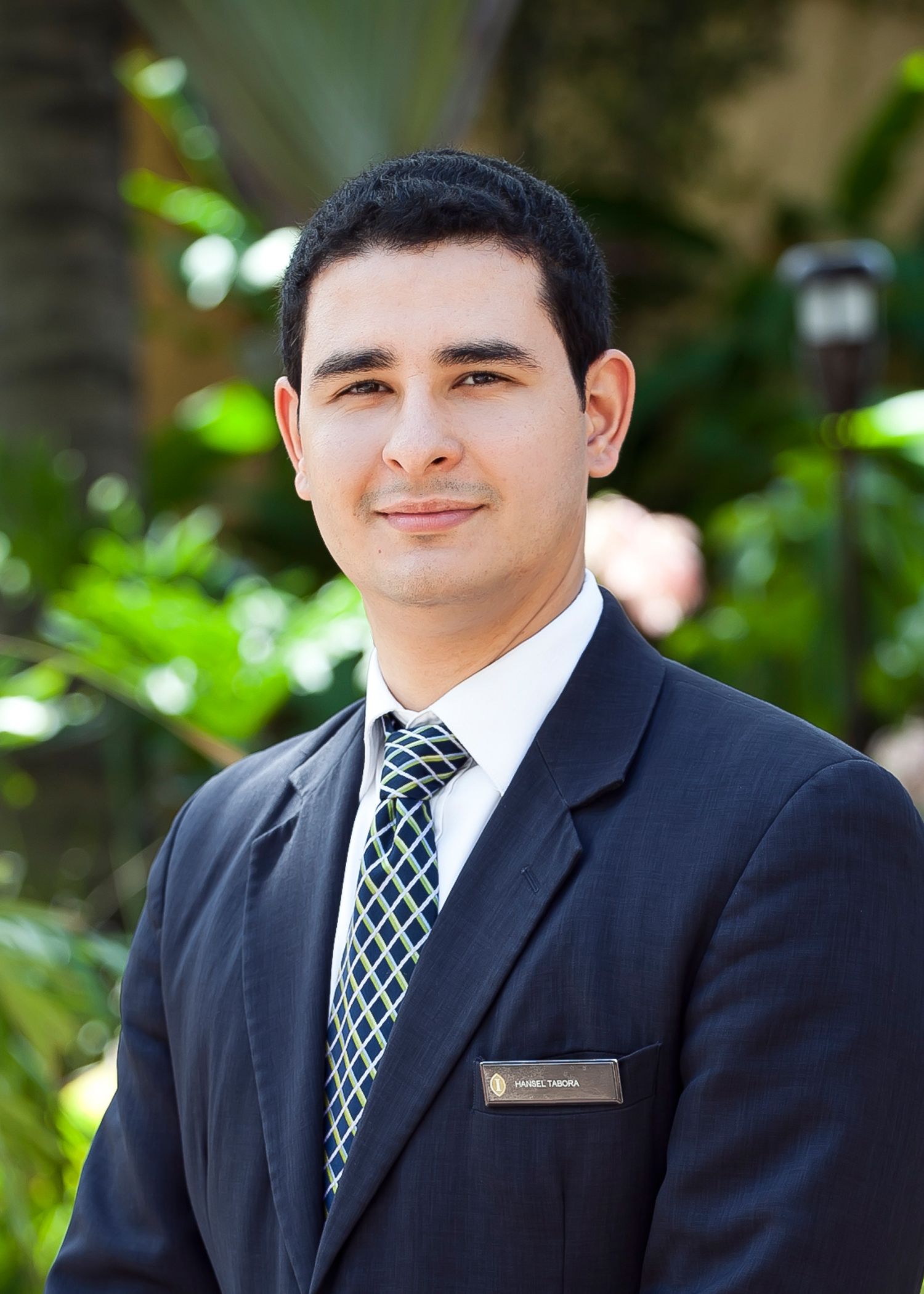 Hansel Tabora
Chief Concierge 50425452532
Welcome To San Pedro Sula
Welcome to Hotel Real InterContinental San Pedro Sula! As Chief Concierge I´m always glad to help out and give custom made solutions to your needs. For us, you´re not just a guest, for us you´re family!
Hotel Real InterContinental San Pedro Sula is one of the city´s landmarks, known to be very important as it is an icon for international buisness and a great place to share amongst friends. With a modern and elegant arquitecture, that soothes even the most distant travelers, our personnel gives the best service in town, guaranteed. We invite you to enjoy a great time with sushi and cocktails in our trendy Bar Nau and authentic grill style in our Factory Steaks & Lobster Restaurant.
MORNING

The adventurous among you should wake up early and head out before breakfast for a hike through the Merendon hills, only a 15-minute drive away from the Hotel. These verdant slopes offer a quick immersion into the region's rich ecosystem and an impressive viem back into the city, especially when the first fingers of dawn begin to spread. After such a hike, a good, healthy breakfast is in order, you can try out our famous baleadas at Baleadas Express on Avenida Circunvalacion. Later you can go to Zizima Water Park and refresh yourself. Enjoy the different attractions this park has to offer. Come and have lunch at Bambu Restaurant, in the Hotel, our delicious dishes will delight you.

AFTERNOON

Start your afternoon with an insight into our rich history by visiting the Museum of Anthropology and History. A few streets away to the south is the city's Central Park. Here you'll see locals selling an array of merchandise or putting on improvised performances for a small donation. Nearby is the Municipal Palace and the city's most distinctive landmark, our unmistakable cathedral of St. Peter Apostle. You're now in the oldest part of the city, founded in 1536 by Pedro de Alvarado. You'll soon notice its distinctive Spanish roots. Later, a visit to the Guamilito Market is a must-see, here you can find a wide variety of local arts and crafts, featuring the famous lenca pottery.

EVENING

After such a busy day you deserve a real treat. So round it off in style by choosing from the diverse array of international cuisine the city has to offer. You may choose from the recommended places in the section "Where to Dine" in this page. We invite you to our Factory Steak and Lobster Restaurant for a grilled style taste in haute cuisine. Later on, hang out and relax in our Nau Lounge where you can enjoy the best Sushi and Cocktails in the City. We recommend you our pool terrace where you will enjoy a great evening with friends. An excellent option, if you`re lucky, are the plays in the José Francisco Saybe Theater. Consult with the concierge team for available functions.
LOCAL CULTURE

Baleadas

If you come to San Pedro Sula, you must not leave without trying the famous baleadas, a flour tortilla with fried beans and cheese or butter. You can also have them with eggs, avocado, pork cracklings and many more. The best place to eat them is Super Baleadas.




Taxes

In Honduras, purchasing any kind of item will incur a sales tax charge of 15 percent. Alcoholic beverages incur a 18 percent tax. And hotels incur in a 19 percent tax.




The City

With its economic and business strength, San Pedro Sula is known as the most important industrial centre of Honduras for a good reason. But the city has a lighter, scenic side too, and the inhabitants are generally warm-hearted and very helpful.




Gratuities

It is not mandatory but a gratuity is accepted, generally of 10 percent. You do not need to tip taxi drivers.




Weather

With only two seasons, Honduras is known for it`s tropical warm and humid weather. Our winter or rainy season, starts in May and lasts until December. Our summer or dry season, starts in February and lasts until April. On summer, expect temperatures of 40°C.




DID YOU KNOW ?

Honduras

Honduras means "deep water" or "great depth". It is the first name associated with the territory, given by the famous explorer Cristobal Columbus. The story says that when he finally got his ship out of the waters of Honduran territory after a storm that lasted 28 days, he exclaimed "Thank God that we have come out of these Honduras!".




First Street and Third Avenue

The oldest streets in San Pedro Sula are First Street (Primera Calle) and Third Avenue (Tercera Avenida). They divide the city between north and south. Avenida Circunvalacion is considered the city's centre.




Catrachos

Hondurans are called "Catrachos", this word comes from the 19th century. In that time, the Honduran General Florencio Xatruch commanded an allied force of Central American countries willing to liberate Nicaragua from American freebooters leaded by the infamous William Walker. After the bloody battles and returning victorious, General Xatruch`s soldiers were called "xatruches". The word changed during the following years, until it became "Catracho".




InterContinental Concierge

We, the Concierge team at Real InterContinental San Pedro Sula, can more than gladly assist you in any manner required. Please feel free to contact us prior, during and after your stay and help you make any desired arrangements. We offer help to arrange airport transport services, assessment on the best tour destinations in the country, car rentals, hotel reservations on other cities, plan a romantic evening, restaurant reservations and gastronomic recommendations, in essence, help you make the most out of your stay.




WHAT TO PACK

Currency

Our local currency is the Lempira. Named for after the 16th century Indian chief, who led many tribes against the Spanish conquest. US dollars are more generally accepted in hotels and other commence, like some restaurants, airlines, car rentals and travel agencies. For everything else it is advisable to carry Lempiras. You can only exchange US dollars and euros in local banks only if you are an account holder. Take in consideration that the currency exchange varies regularly. For other currencies you have to go downtown to a money exchange house. Our Hotel can change only dollars.




Clothing and accesories

Honduras has a pleasant tropical weather, it is advisory to pack some light clothing as you should expect a warm temperature and some humidity. During the winter season it pours, so be sure to pack an umbrella and a coat. If the purpose of your visit is travel and leisure, bring tennis shoes, sandals, sun block, insect repellent and don`t forget your camera. Be sure to experience Honduras fully. You can visit the Tela Bay beaches, take a boat ride on the Yojoa Lake, explore the Taulabe caves, discover the great Fortress of San Fernando de Omoa, take a dip on the Pulphapanzak Waterfalls, and many more. But plan your visit, these spectacular destinations are an hour away from the city.



InterContinental Real San Pedro Sula
Colonia Hernandez Y Blvd Del Sur

San Pedro Sula

,

3818

Honduras

Front Desk

+504-2-5452500