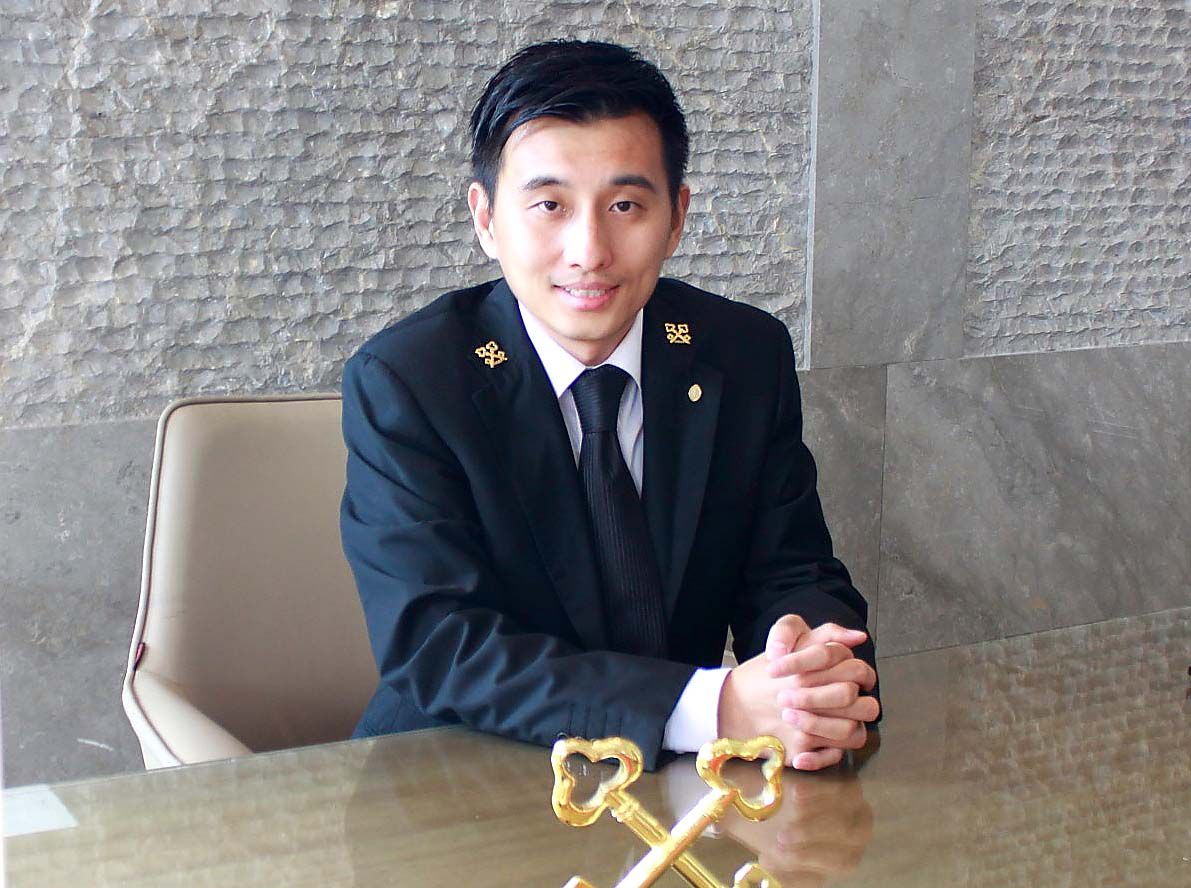 Dennis Wang
Chief Concierge 8621385811885711
Welcome To Shanghai
Welcome to the InterContinental Shanghai Expo. I am Denis, the Chief Concierge of the hotel. My team and I are delighted to have you staying with us and we are here to ensure that you have an unforgettable experience in Shanghai.
Welcome to InterContinental Shanghai Expo. Let us show you how we can make your stay a very special experience. We conveniently locate to the city's shopping and entertainment areas – just 8 minutes away from the Lujiazui district in Pudong, 10 minutes from Xintiandi, 15 minutes to the Shanghai New International Exhibition Center, and only 35 minutes from Pudong International Airport, and with easy underground tunnels and bridge access to Puxi.
MORNING

Wake up early and jogging on the riverside terrace opposite to the hotel. Relax yourself and take a breath of fresh air, and after an hour you should feel quite revitalised. Then, take a taxi to Yuyuan Garden and taste some Chinese tea to completely detoxify your body. Sit and sip on the 2nd floor of the teahouse by the 9-curves bridge in Yuyuan Garden and watch life go by. Then you can walk along the old street, where Chinese art, souvenirs, paintings, paper cuttings, ancient seal carvings and other art are available amidst Ancient Chinese architecture. Have a true local experience by bargaining with vendors or get a carving of your Chinese name.

AFTERNOON

Xintiandi is an area of Shanghai that teems with life. You will find a full range of restaurants, bars and shops located in authentic 'Shikumen' architecture. You can enjoy lunch from a large and varied choice of restaurants in these wonderful old buildings. A 30 minutes walk from Xintiandi is the Shanghai Museum where you will find the history and treasures of China, a must for all visitors fond of Chinese history. Having seen the past, just go next door to see the extraordinary plans for this city's future at the Shanghai Urban Planning Exhibition Centre. It's spectacular to see the plans, and almost comforting, as this city is growing so fast that it sometimes feels like it has a life of its own.

EVENING

Shanghai is an incredible but hectic city, so take the evening to relax. Enjoy a fantastic dinner in one of the a lot of restaurants on the Bund, take in the view of the Huangpu river and see the fiery sunset that somehow feels so appropriate; Shanghai is a city with so much energy you would believe it could burn out the sun. If you feel infatuated with this impressive stretch, take a cruise down the river, see the wonderful architecture from a distance and feel the city regenerating for tomorrow.
LOCAL CULTURE

Bargaining

There are lots of markets in Shanghai such as Qipu Road, Xin Yang Market, which is selling clothing, bags and small decorations. It's very popular for the young people and overseas person. All the prices they offered can be negotiated. People enjoy the process of bargaining.




Learn some simple Chinese or Shanghai dialect

In China, if you can speak some simple Mandarin or dialect, it will make more closer with the local people. " Ni Hao" , " Xie Xie" and "Zai Jian" are the basic words to express " Hello", " Thank you" and " Goodbye".




Metro & Bus Exchange

In Shanghai, the best and convenient way for city tour is to take subway. Buy a transportation ticket and you can enjoy the discount if you exchange to another line with 2 hours.The benefits are also available for the bus transportation.




DID YOU KNOW ?

Shanghai World Financial Center

With Shanghai's Pudong New area, the Shanghai World Financial Center is positioned at the very heart of the Lujiazui Finance and Trade Zone, an area with the potential to develop into a major Asian center of international finance. Soaring to a height of 492m with 101 above-ground floors. SWFC is the world's tallest mixed-use urban development project.




Mercedes-Benz Arena

The Mercedes-Benz Arena boasts an 18,000 seating multi functional performance space. Using only the most current equipment available to the industry, the main arena can be partitioned and divided to host any number of shows and satisfy any lighting, sound, and seating arrangement request. Also available in visitors is the Mixing Room, an intimate and private theatre / club designed with state of the art technology to guarantee that shows deliver a unique experience to each guest. Below the arena is a 20,000 square meter combined interactive retail, entertainment, dining, and leisure area. Open everyday, visitors will enjoy shopping in of our many stores, browsing the Mercedes-Benz Showroom, or maybe ice skating on Shanghai's largest public ice skating rink.




Maglev Train

The Maglev Train is the fastest in the world and Shanghai is the only place which has one. It takes you eight and a half minutes from Shanghai Pudong Airport to the Long Yang Road Station, a distance of 30km with a high speed of 431km/h.




WHAT TO PACK

Hotel address and telephone number

Taxi drivers are not familiar with the English pronunciation for the hotels in Shanghai. Try to get the address in Chinese characters beforehand or at least the hotel telephone number so you can ask the operator to tell the taxi drivers where to go. To avoid all of that hassle, it is best to book a pick up service.




City Map

You can ask for the city map from concierge or get the tourist guide from the lobby. It will give you more details for the city travelling.



InterContinental Shanghai Expo
No.1188,xueye Road,

Shanghai

,

200125

China, People's Republic Of

Front Desk

+86-21-38581188
Languages spoken by staff
German, Greek, English, Spanish, French, Hindi, Indonesian, Japanese, Korean, Chinese
Pet Policy
No Pet Allowed