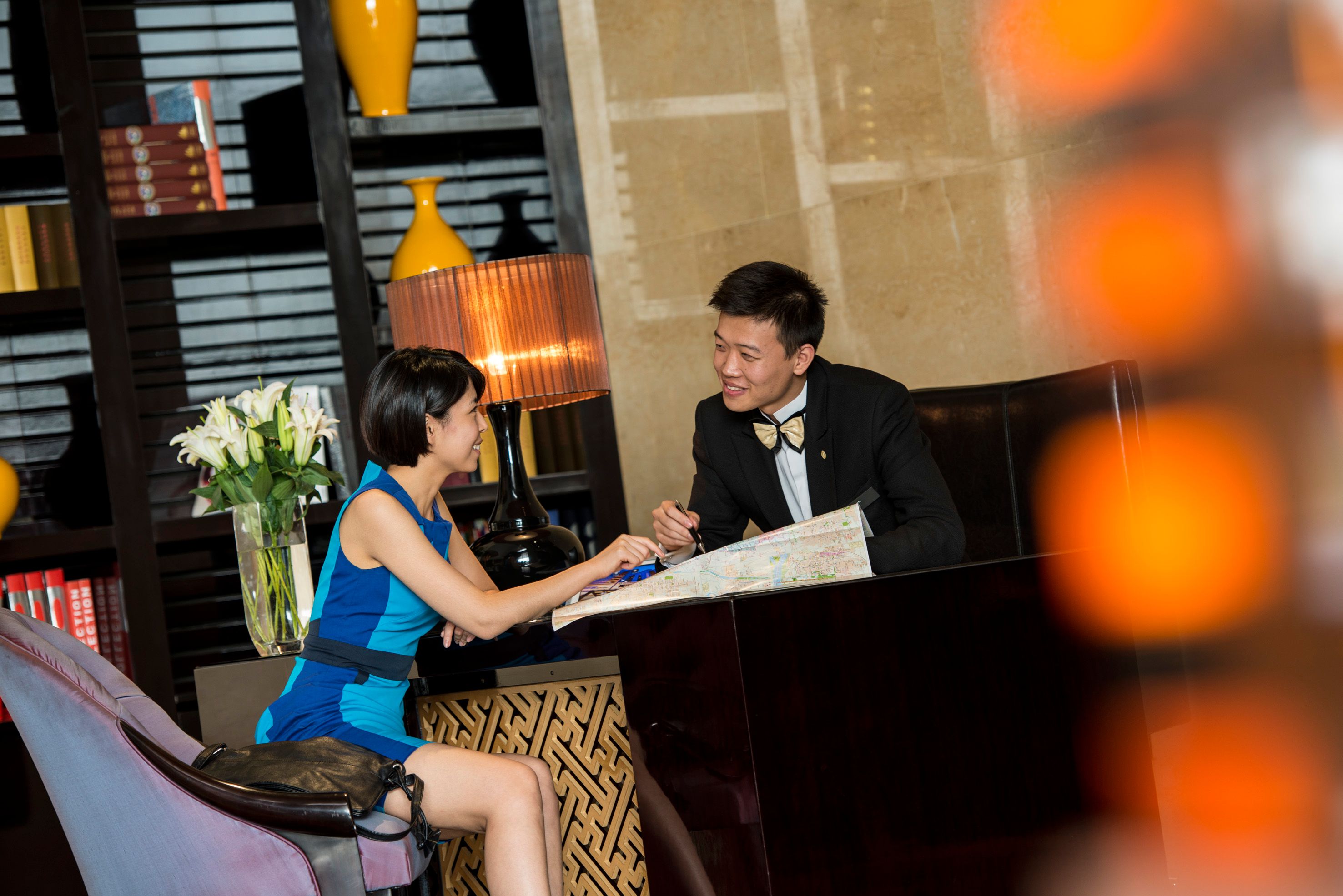 Chris Fu
Chief Concierge 86311677966667
Welcome To Shijiazhuang
Welcome to the InterContinental Shijiazhuang. On behalf of everyone at InterContinental Shijiazhuang, I would like to welcome you to the capital city of Hebei. No matter how long your stay, we would like to make your stay the most memorable.
InterContinental Shijiazhuang is an international luxury hotel in Shijiazhuang, invested by Wanda group, strategically located in Yuhua district and directly facing Century Park. The hotel will form part of the integrated complex comprising of Shopping Mall, Residences and Corporate Office Building.
MORNING

To start the day it would be a great idea to visit the Zhaozhou Bridge and the Bailin temple in the South East of Shijiazhuang. The Bailin temple is the best preserved temple in China as well as the largest of its kind. The Zhaozhou Bridge offers a great picturesque environment and is also known as the world's oldest open-spandrel stone segmental arch bridge. In order to get there you can rent one of the hotel's luxurious cars or simply take a taxi. The travel time should be approximately 40 minutes.

AFTERNOON

In the afternoon it would be a great idea to visit the Grand Theater near the intersection of YuHua Road and JianShe Street. This theater offers many shows with local characteristics such as Hebei bangzi, Beijing opera and acrobatics from the Hebei province. More to the South you will find Hongxing Guyi club on Zhongshan Road. This is a nice place where you can enjoy the social environment and local folk art. It will also show you a different side of Shijiazhuang.

EVENING

Located in the South of Zhongshan Road you will find a bar street where you can enjoy Shijiazhuang's nightlife. In this street you will find many bars and restaurants where you can enjoy the local snacks and drinks. Please contact the concierge department at any time during your stay for more detailed information about any of the information written above.
LOCAL CULTURE

LOCAL CULTURE

Shijiazhuang city is located in the vast, vast central north China plain, is located in the east longitude 114 ° 29 ', latitude 38 ° 04 ', north depends on the capital, Beijing, and the port city of tianjin, east is near bohai sea and north China oilfield, west on the wei taihang mountains and with the coal base adjacent to Shanxi Province, called "both capital city land", known as the "north and south, YanJin localted throat" say, the geography position is very superior. Shijiazhuang is temperate continental monsoon climate, winter cold dry, many DongBeiFeng, hot summer dry, the southeast to the spring and autumn and gentle.




LOCAL CLIMATE AND WEATHER

Shijiazhuang is located in the north China plain hinterland, north depends on the beijing-tianjin, east is near bohai sea, west lean on taihang mountains, is the capital of the southern door, belongs to the warm temperate zone continental monsoon climate. Shijiazhuang general climate features are: spring WenXia hot and cold winter which, rainfall time and space distribution and dry wet period obvious. The spring wind, flying sand weather is more, forms a long day, respectively, for 105 and 145 days, age season short, respectively for 55 days and 60 days. Shijiazhuang spring dry climate, annual rainfall is less, often have 4, 5 sea-level wind, micrometeorology may be associated with the weather, but the rise of temperature is faster; Summer is the season of rainfall a year at most, temperature is higher, the hottest month in and month of precipitation are most in the summer, respectively for July and August, the summer precipitation accounts for about 65% of the annual fall; Sunny autumn little rain, the temperature is moderate, favorable climate, is the best season of the year; Dry cold in winter, the weather was beautiful little cloud and precipitation is less.




DID YOU KNOW ?

HOW TO FIND DELICIOUS

In Shijiazhuang city's many small shop, in the hotel has a difficult to find delicious, but these shop again We tend to be ignored. Although these shop common area is not large, and some environment Not very good, but this does not block the delicious food and the lure of the low price. You can consult us to walk the streets of shijiazhuang, Can press diagram suo ji to try. Of course, many of the reporters and net friend to there is no lack of individual opinion, See there whether snacks with your tastes. Of course still need to go to judgment oh.




WHAT TO PACK

WHERE TO SHOP

"the south have north yiwu, a north NaSanTiao," said the NaSanTiao market is located in shijiazhuang city center business prosperous area, shijiazhuang city QiaoDongOu by a hutong market gradually. In the 20 years of development history experiences three times historic leap, particularly in 1998 started five years for the promotion transformation, make NaSanTiao market completion from simple, cheap DaPengShi market fair to facilities, service function complete, operating environment beautiful large modern market leap forward. At present, the market covers an area of 800 mu, the business area of 650000 square meters, have the tai cultural gifts city, tai cosmetic city, new source hair commodity characteristics market, the founding of Oriental culture food hall, commodity market, such as modern commodity city 25 stadium professional mall, management businesses with 12000 m, from personnel 30000 more than person, traffic, 200000 people, and the 2005 market turnover was 27.15 billion yuan, 2006 market turnover was 30.694 billion yuan. Public goods including knitting, department stores, food, date, hardware, footwear, bags, toy, handicrafts, cultural goods, electronics, books audio and video and twelve big market, nearly varieties, commodity radiation northwest, northeast, north China, such as large areas, become a great circulation pattern of the north China strategic strong point. NaSanTiao market scale, radiation wide, drive ability is strong, its people and logistics, cash flow and information flow of gather effect of increasing, and formed a "business world, communication north and south" commodity distribution pattern, be in the northern region of the biggest commodity distribution center. NaSanTiao market has repeatedly ranked among the national market ten ranks, the 1999 "national commodity market five strong". Since 2001, three consecutive years of "national top industrial products trading market second" for two years, the "national three big industrial products trading market", gained the title of "China (preferred) ten best industrial professional market", "national top ten commodity trading market", "China brand market base", "China commodity trading market is the most influential award" to a number of national honor.



InterContinental Shijiazhuang
119 Huai An East Road,

Shijiazhuang

,

050030

China, People's Republic Of

Front Desk

+86-311-67796666
Languages spoken by staff
English, Chinese
Pet Policy
Pets are not allowed into the hotel.