Rome Hotels
Italy's enchanting capital sits on the shores of the Tiber river and contains some of the world's most beautiful examples of Renaissance and Baroque art and architecture. It also offers some of Europe's finest cuisine, hottest nightlife and chicest shopping.

Stay in Rome for a few days, experience modern life amid the ancient monuments and you'll soon understand why it's called the Eternal City.


Rome
Rome's historic centre is a UNESCO World Heritage Site characterised by expansive boulevards, public squares and labyrinthine cobblestone streets that house some of the city's best restaurants and upscale hotels. Although the city is officially divided into rioni (neighbourhoods), Romans will often refer to locations based on their proximity to the closest piazza or monument.

On the east side of the Tiber you'll find many of Rome's major sights including the Colosseum, the Pantheon and the Trevi Fountain. The area is full of chic shopping streets, lively public squares like Piazza Navona, known for its street artists, and the vibrant Campo de' Fiori district, packed with bars and restaurants.

On the west side of the river you'll find Vatican City as well as the lively Trastevere neighbourhood, which houses the Romanesque Basilica of Santa Maria.


Top attractions in Rome
Vatican City holds some of Rome's most notable cultural attractions, like St. Peter's Basilica and the Vatican Museums with the Sistine Chapel. On Sundays, often the Pope conducts mass in St. Peter's Basilica. Admission is free, but you need tickets.

You can't come to
Rome and miss the Colosseum. This feat of engineering served primarily as a venue for gladiatorial battles and public spectacles until the 5th century.

From the Colosseum, a short walk takes you to the Roman Forum, once the heart of Ancient Rome. The Pantheon, a building that dates back to roughly 128 AD and is one of the world's best preserved examples of ancient Roman architecture, is a 15-minute stroll from here.

The Spanish Steps, which connect the Piazza di Spagna with the elegant Trinità dei Monti church, are a popular spot to enjoy Rome's hustle and bustle. If the crowd is too much, a short stroll from the church takes you to the elegant parks of Villa Medici and the Pincio. From here, a bridge over a busy road allows you to enter Villa Borghese. This massive public park is dubbed the "park of museums" because in and around it are many galleries including the National Gallery of Modern Art.


Another major attraction for sightseers is the enormous Il Vittoriano. This white marble monument was built in honour of King Vittorio Emanuele II and dominates the Piazza Venezia and Rome's skyline.
The concierge recommends…
Strolling past the the Trevi Fountain. Lore dictates that if you turn your back to the fountain and toss a coin over your left shoulder using your right hand, you will visit Rome again.
Buying art in Piazza Navona, a Baroque square built atop a stadium. Here you'll find sketches and watercolours by local and international artists, as well as Bernini's famous Fontana dei Quattro Fiumi.
An especially green city, Rome is filled with public parks, nature reserves, villas and lush landscaped gardens ideal for an impromptu picnic or family outing.
Hotels in Rome
Rome and its suburbs have hotels to suit every budget and style, from upscale accommodation in the city centre to budget-friendly properties close to major thoroughfares.

The city centre is the ideal setting if you want to be surrounded by history. You'll be steps away from the Vatican and close to trendy night-life spots around Campo de' Fiori or traditional trattorias in Trastevere.

Well-connected to Rome's Leonardo Da Vinci Airport (FCO), hotels close to Magliana, Pisana or Aurelia business districts are ideal for business and leisure travellers alike. Nature-lovers will find peace from the buzz in nearby parks like Villa Doria Pamphili and Riserva Naturale della Tenuta dei Massimi.

Accommodation on the east of Rome is close to the A1 motorway and the city's ring road, the Grande Raccordo Anulare. This is a practical location if you are visiting by car or as a base for trips out of the city.


Eating Out in Rome
Much like the rest of the country, Rome's gastronomy relies on seasonal, local ingredients and dishes which have been around for generations. Pizza and gelato are popular foods that are easy to come by. Roman cuisine is also noted for using pancetta and guanciale (cured pork jowl) to enhance natural flavours.

With a focus on simple dishes and Frascati wines, few local experiences are more enjoyable than eating at an authentic Roman trattoria. Testaccio and Monti are hip neighbourhoods frequented by in-the-know locals. Here you'll find traditional Roman dishes like spaghetti alla carbonara, oxtail stew and fritti, lightly battered and fried vegetables.

For an upscale dining experience, head to the Villa Borghese district. You can enjoy a sophisticated lunch at Caffè delle Arti at the National Gallery of Modern Art or sit down to a stylish meal at Il Fellini, where typical Roman dishes are reinterpreted with innovative techniques.


The chef recommends...
Bucatini all'Amatriciana: Long, thick and hollow pasta (think thick spaghetti), tossed with spicy tomato sauce and crispy pancetta.
Carciofi alla romana: Melt-in-your-mouth artichokes braised in water, white wine and olive oil.
Supplì: Fried rice balls stuffed with cheese and coated with breadcrumbs.
Saltimbocca alla romana: Veal escalopes topped with sage and prosciutto, and sautéed in butter and olive oil.
Shopping in Rome
With stalwart fashion houses like Valentino and Fendi headquartered in Rome, it's clear that shopping is an integral part of the local fabric.

For top designer wares, go no further than the network of cobblestone streets that branch out from the Spanish Steps: Via dei Condotti, Via Frattina and Via Borgognona. High-end shops like Prada, Louis Vuitton and Balenciaga are interspersed with exclusive antiques dealers.

Bargain hunters should hit up the weekly Porta Portese flea market in Trastevere, where you'll find endless piles of new and vintage clothing, used books, original art and general bric-a-brac. Haggling is the international language here, and most stalls only accept cash.

Via del Corso and its environs have department stores and clothing from chains like H&M and Zara.


Rome's must-buys
One of Rome's oldest streets and the shopping stomping grounds of the 16th-century elite, Via Giulia now appeals to those in search of antiques, furniture and objets d'art.
Bring home a bag of roast beans from Sant'Eustachio Il Caffè, largely regarded as Rome's finest coffee shop.
Diana Numismatica, in the centrally located Quirinale district, is the place for collectors to find ancient Roman coins.
Culture & Nightlife in Rome
Rome is noted for its thriving cultural scene that blends traditional arts like opera, theatre and ballet with contemporary plays, pop music, avant-garde art and modern dance. The city also plays host to the annual Rome Film Fest, the Roma Jazz Festivaland Estate Romana, a summer-long festival that sees live music, open-air cinema and gastronomic events take place at venues around the city.

Romans are known for being bon vivants, so there are plenty of things to do in the evening hours. You can choose from bars and clubs for patrons of all inclinations, or live music venues playing genres as varied as folk and electronica.

If you're staying near the historic city centre, the Trastevere and Campo de' Fiori neighbourhoods are brimming with nightlife. Testaccio is another lively district, filled with pubs, bars, restaurants and clubs like L'Alibi, renowned for its intense techno nights that play to a mixed crowd.


Rome best nights out
Black Market: An indie bar in the hip Monti neighbourhood, noted for showcasing underground musicians and artists.
MAXXI: The Zaha Hadid-designed National Museum of 21st-Century Art hosts free events like Teatro in Piazza, which sees classic productions provocatively reinterpreted through dance and theatre.
Teatro dell'Opera di Roma: During the summer months, this opera, dance and live music venue moves to the ruins of the Baths of Caracalla for open-air productions.
Visiting Rome with a Family
There are many ways to explore the city and its history for both you and your children to enjoy, like booking a private family tour of the Vatican Museums. Green spaces throughout Rome provide ample opportunity for kids to play and parents to relax.

Animal-lovers will enjoy a trip to the Bioparco di Roma, one of Italy's largest zoological gardens, while the gardens of Villa Borghese have rowboats, miniature pony rides and tandem bikes.


Best activities for kids
A thrilling discovery zone, Explora Il Museo dei Bambini di Roma uses interactive displays to teach kids life lessons, including how to shop for groceries and recycle.
Exhausted little ones? You can take a horse-drawn carriage ride through town, stopping by the Roman Forum, Piazza Navona and Trevi Fountain.
Established in 1936, Bartolucci is the go-to shop for classic wooden toys and Pinocchio dolls handcrafted by artisans.


+ View More
- View Less
Displaying 8 Hotels in

Rome
More IHG Hotels in Rome, Italy
InterContinental De La Ville Roma
If you are coming to Rome for a visit of the Eternal City, or just for a business trip, you won't find an accommodation better than De La Ville Roma. This hotel is located in the heart of the City,at the top of the Spanish Steps The best attractions and the best shops are just few metres away. Inside you will find the high classic standards of IHG combined with the unique warmth of Italian people.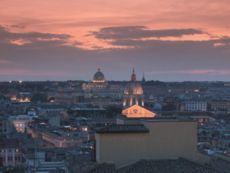 Via Sistina 69, Rome, 00187, Italy
Hotel Reservations : 1 877 424 2449 | Hotel Front Desk : 39-06-67331
Hotel Indigo Rome - St. George
Free Wi-Fi throughout the hotel. During summer, restaurant and bar move up to the roof top terrace with 360° view over the eternal city. If the sun is shining enjoy your breakfast in our internal courtyard and upon return to the hotel, dedicate a few hours to a relaxing experience at our boutique Spa. Fully no smoking hotel.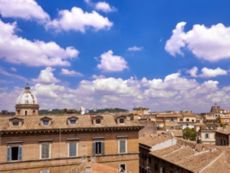 Via Giulia 62, Rome, 00186, Italy
Hotel Reservations : 1 877 424 2449 | Hotel Front Desk : 39-06-686611
Holiday Inn Express Rome - San Giovanni
The Hot Breakfast Buffet is always complimentary and is our way to thank you for choosing us. The buffet offers a choice among over 100 products, many of them freshly home-made such as pies or croissants. We have also a private garage on the basement of the hotel for a daily fee of € 12,00 per car or € 6,00 per motorbikes. Do not forget the City Centre is forbidden to the private cars.
Via Assisi 51, Rome, 00181, Italy
Hotel Reservations : 1 877 424 2449 | Hotel Front Desk : 39-06-784692
Holiday Inn Express Rome - East
Ask our helpful front desk team about any informations you may need during your stay and feel free to ask them to arrange city tours, museum visits, airport transportation or more.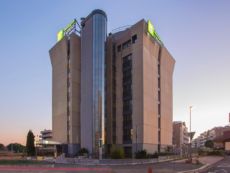 Via Giorgio Perlasca, 50, Rome, 00155, Italy
Hotel Reservations : 1 877 424 2449 | Hotel Front Desk : 39-06-94440000
Crowne Plaza Rome - St. Peter's
Unwind at Crowne Plaza Rome-St Peter's with our Roman Wellness Dream Package. Adults and children over 16 can take advantage of discounted treatments and massages in our shimmering spa, as well as complimentary bathrobe, slippers and spa kit.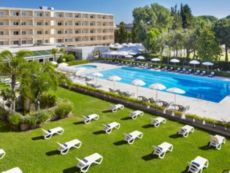 Via Aurelia Antica 415, P.O.Box 9076, Rome, 00165, Italy
Hotel Reservations : 1 877 424 2449 | Hotel Front Desk : 39-06-66420
Holiday Inn Rome - Pisana
Located in a ideal position, the hotel is the perfect base to explore the eternal city and also for business travelers looking for a comfortable and easy to reach hotel from which to move easily to the major points of interest of Rome.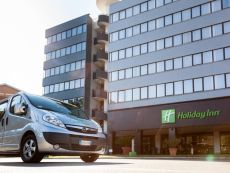 Via della Pisana 374, Rome, 00163, Italy
Hotel Reservations : 1 877 424 2449 | Hotel Front Desk : 39-06-40046900
Holiday Inn Rome - Aurelia
Shuttle bus is available to the metro station Battistini line A to visit Rome without worry of traffic. Guarded car park is available for a moderate daily fee of € 5.00. Enjoy our outdoor swimming pool, bar and restaurant services on the pool area during summer time. Our reception is available to help you plan your visit to Rome; ask them for the schedule of our shuttle.
Via Aurelia Km 8,400, Rome, 00163, Italy
Hotel Reservations : 1 877 424 2449 | Hotel Front Desk : 39-06-66411200
Holiday Inn Rome - Eur Parco Dei Medici
Completely renovated 4* hotel, conveniently located for business and leisure travellers, from the minute you step through our doors you will feel welcome! Rooms are spacious and stylishly decorated. It offers facilities like outdoor swimming pool, fitness center/sauna, free Wi-Fi and a shuttle service from both FCO Airport and metro Eur Magliana. Restaurant, Bar and a functional Conference Center.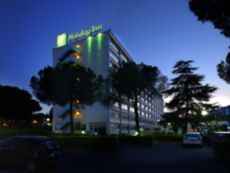 Viale Castello Della Magliana 65, Rome, 00148, Italy
Hotel Reservations : 1 877 424 2449 | Hotel Front Desk : 39-06-65581