Hamburg Hotels
Germany's self-proclaimed "gateway to the world", Hamburg is also the country's largest port. Its modern take on coastal life can be exhilarating to both visitors and those who call it home. Thanks to a perfect balance of bustling maritime atmosphere and slick, metropolitan vibe, Hamburg is a unique hub of contemporary culture and style in northern Germany.

Hamburg: city layout
The River Elbe flows directly through Hamburg and the central port area. Here you'll find the city's shipping industry as well as the gleaming new commercial and residential structures of the ambitious HafenCity redevelopment. You'll reach the bohemian neighbourhood of St. Pauli and its infamous centre of Hamburg nightlife, the Reeperbahn, as you head west from the harbour.

Set slightly behind the harbour to the north is the lively traditional city centre. Northwest of here, there are the alternative and trendier districts of Altona and Sternschanze – also known as Schanzenviertel.

Things to see and do in Hamburg
Early risers can head to Altona's famous fish market, which takes place very early on Sunday mornings. Market stalls selling fresh fish and seafood line the banks of the Elbe. Round these gather crowds of tourists, locals and even the odd reveller on the way home from Saturday night's festivities run overtime. The market is usually packing up by mid-morning – the rest of the day can be spent strolling around the sprawling Planten un Blomen park.

One of the city's major landmarks is St. Michael's church. Climbing the stairs to the pinnacle of the tall
spire affords stunning vistas. It also allows you to get up close to see its mighty bells at work.

The concierge recommends…


Dipping your toes into the central Alster lake, a popular destination for paddlers, rowers, strollers and joggers.
Savouring the fresh catch of the day in one of Deichstraße's traditional and welcoming restaurants, like the elegant Deichgraf.
Snapping a few holiday pictures in front of the copper-topped town hall.
Indulging in a spot of shopping with locals on the lively Jungfernstieg promenade.
Hotels in Hamburg
From affordable chains to independent guest houses offering boutique services, Hamburg's accommodation caters to all budgets. Young travellers like staying in St. Pauli to experience the best of Hamburg nightlife. The Reeperbahn red light district is infamous for its debauchery, but you'll also find some of Hamburg's more popular – and classier – bars there.

If you're in the mood for a bit of peace and quiet, Winterhude will place you right next to the city's largest park. Families prefer the calmer vibe of Hohenfelde, a leafy residential area north of the city centre and next door to Alster lake.

Many modern hotels and residences have taken over former industrial buildings and created Hamburg's most polished and sophisticated area, HafenCity. Sternschanze is another stylish part of town, but with a more laid-back vibe and younger crowd. This district is an excellent option if you want to sample nightlife that isn't quite as raucous as St. Pauli's.




Eating Out in Hamburg
Even though people often equate Hamburg with the hamburger, it isn't considered a traditional dish here. Fresh, locally caught fish is ubiquitous around the port area; herring, lobster and eel are particular favourites. If you're not into fish, there are many other German classics to try, such as the bratwurst – a grilled sausage in a white bread bun.

The majority of restaurants around the harbour area in HafenCity specialise in seafood. Even those that don't will still feature fishermen's wares in at least one dish. For more seafood delicacies, you won't find it fresher than at one of many food trucks serving up generously stuffed sandwiches at the fish market.

Chic eateries line the banks of the Elbe river and Alster lake and will tempt you to while away your time over a large glass of crisp Riesling. Most offer a refined setting for enjoying high-end German cuisine, and nearly all have unbeatable views of the water. For dining out on a budget, Sternschanze is a hotbed of trendy and affordable cafés, bars and bistros.

The chef recommends...


Labskaus: A hearty stew made from corned beef, beetroot and mashed potato.
Franzbrötchen: A breakfast staple, these squashed croissants are often filled with sugar and cinnamon, but can sometimes be found with chocolate or raisins.
Alsterwasser: Named after the Alster lake, this German version of a shandy is made up of equal parts beer and lemonade. It's great for washing down a hearty fish dish.
Shopping in Hamburg
In a city once famous for its sea merchants, it's no wonder shopping is still a big part of Hamburg's culture. Can't find exactly what you're looking for in one of nine shopping centres or along one of many shopping streets? There are various bustling flea markets.

You can rummage through vintage trinkets and hunt for bargains at Flohschanze market or sample local jams, honeys and other edibles at the Isemarkt farmers' market. The St. Pauli night market even caters for night owls looking for an evening snack.

Mönckebergstraße is the city's traditional shopping street. Here you'll find national chains alongside the mighty Alsterhaus department store, which is often compared to New York's Bloomingdale's. An extremely affluent area, Eppendorf is home to many high-end retailers. Alongside antique shops and dainty boutiques, many goldsmiths and potters have their workshops in this upmarket district.

Hamburg's best shopping centres


Europa Passage: Nestled between Mönckebergstraße and Jungfernstieg, Hamburg's largest shopping centre consists of 120 shops spread across five floors.
Hanseviertel Passage: Under the glass roof of this shopping passage, you'll find uppercrust cafés and seafood bars next to trendy retailers.
Gänsemarkt Passage: Three floors filled with Germany's big, high-street fashion labels like Esprit and H&M.
Culture & Nightlife in Hamburg
Each of Hamburg's vibrant neighbourhoods plays its own part in creating the city's eclectic culture and nightlife. From the boisterous bars of St. Pauli to the colourful musicals at the world-renowned Theater im Hafen, there's plenty of entertainment to suit every taste.

Most of the night-time action takes place on the famous Reeperbahn, an eclectic mix of trendy nightclubs, small local pubs and theatres. You'd rather have a quiet night sampling local brews in a more low-key neighbourhood? Try one of the authentic German taverns on Grossneumarkt square and Lange Reihe street. If you're spoilt for choice, opt for a bottle of Astra Urtyp, a beer from one of the city's most popular breweries.

Just off the Reeperbahn, the Stage Operettenhaus is a contemporary theatre showing big-name musicals. In the same area, the Imperial Theater is one for crime fans – the venue specialises in whodunnits and murder mysteries. Hamburg is also known for its acclaimed opera shows, and the State Opera aims to bring the genre to a wider audience.

Hamburg's best galleries


Kunsthalle Hamburg: From portraits and scenic landscapes by the old masters to modern installations, the Kunsthalle covers a wide range of artistic styles throughout history.
Deichtorhallen: One of the skyline's most noticeable features, this museum's contemporary exhibitions covers paintings and sculptures.
Museum of Arts and Crafts: This alluring neo-Renaissance palace houses European and Islamic works from antiquity to the present day.
Visiting Hamburg with a Family
Hamburg isn't just about the port and nightlife – it also does a great job catering for families and young children. Kids can run around the zoo and various parks, and at least one of the city's excellent museums should pique their interest. Dining out is never a problem; almost all restaurants serve children's menus for smaller appetites and fussy eaters.

Kids can have an adrenalin-pumped day at the Hamburger Dom. The largest funfair in Germany, it opens for extended periods in spring, summer and winter. Every Wednesday is family day, when myriad acrobats, jugglers and clowns perform. They also hold a fireworks show every Friday evening at the Heiligengeistfeld area of the fair.

The Miniatur Wunderland's model railway is the world's biggest. The model town is made up of sections based on real towns across Europe and America, as well as an area dedicated to the fictional town of Knuffingen.

Family friendly restaurants in Hamburg


Strandperle: Located right on the waterfront, kids can play in the sand while waiting for their snacks to be prepared.
Café am Planschbecken: This quaint café has indoor and outdoor playing areas, plus a paddling pool so kids can cool off in summer.
Montgomery Champs: Children can indulge their sweet tooths with this American diner's top notch pancakes, waffles and cheesecake.


+ View More
- View Less
Displaying 5 Hotels in

Hamburg
More IHG Hotels in Hamburg, Germany
Holiday Inn Express Hamburg-St. Pauli Messe
Holiday Inn Hamburg-St Pauli Messe offers good value for money. Linger over your choices from our complimentary buffet breakfast while you check your email with wireless Internet in the airy Great Room. Under-18s can stay for free on a sofabed when sharing with their parents.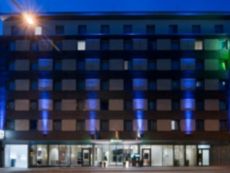 Simon-von-Utrechtstrasse 39, Hamburg, 20359, Germany
Hotel Reservations : 1 877 424 2449 | Hotel Front Desk : 49-40-22636060
Crowne Plaza Hamburg - City Alster
Our largest meeting room is a sleek and stylish space overlooking the light-filled central atrium of Crowne Plaza Hamburg-City Alster. Team up with the dedicated Crowne Meetings Director who will show you around our versatile rooms, help arrange your event and take care of all the details.
Graumannsweg 10, Hamburg, 22087, Germany
Hotel Reservations : 1 877 424 2449 | Hotel Front Desk : 49-40-228060
Holiday Inn Express Hamburg City Centre
A generous complimentary breakfast at the Holiday Inn Express Hamburg City Centre sets you up for a day exploring Hamburg's sights. We're just 5 minutes by U-Bahn from the 19th-century Speicherstadt district and the bustling harbour with its Sunday Fish Market.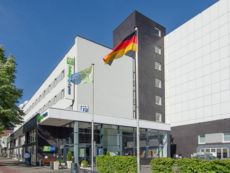 Lübecker Strasse 109, Hamburg, 22087, Germany
Hotel Reservations : 1 877 424 2449 | Hotel Front Desk : 49-40-7344510
Holiday Inn Hamburg
The four star hotel "Holiday Inn Hamburg" welcomes you in the South of Hamburg. The hotel offers 385 rooms on 18 floors with a great view over the Elbe. Our rooms are all equipped with shower, hairdryer, telephone, TV, internet connection, safe and minibar. Have a taste of regional specialities in our restaurant ""Elbgarten", enjoy a German beer in our Pub "Windfang or relax in our wellness area.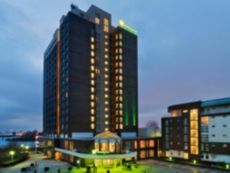 Billwerder Neuer Deich 14, Hamburg, 20539, Germany
Hotel Reservations : 1 877 424 2449 | Hotel Front Desk : 49-40-78840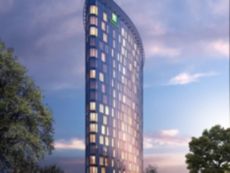 Book for Jan 28 Arrivals
Kapstadtring 2a, Hamburg, 22297, Germany
Hotel Reservations : 1 877 424 2449 | Hotel Front Desk : 49-611-44760016