Istanbul Hotels
Istanbul, the capital of Turkey and the country's largest city, is a beautiful metropolis that offers vacationers an unforgettable experience. More than 14 million people live in Istanbul and enjoy the city's pleasant spring weather. Spring is a great time to visit because you can avoid the summer heat and crowds. However, the best deals on Istanbul hotels are available in winter, so that is the time to go if you don't mind snow.

Istanbul is a city full of fascinating dichotomies. You'll see that both Eastern and Western cultures have a strong influence on its atmosphere and customs. The city's rich past also contributes to the variety of things to see and do; Istanbul served as the capital of four major empires, including the Roman, Byzantine, Latin, and Ottoman Empires.

In Istanbul, you will see Muslims, Christians, Jews, and devotees of other religions. Despite the diverse religious practices and cultural traditions of the city's inhabitants, many of them share a warm spirit that eagerly welcomes visitors.

How can you make the most out of your visit to this unique city? Use this guide to help you start planning your trip.


Things to See
A trip to Hagia Sophia is essential for any visitor to Istanbul. This architectural marvel started out as a cathedral, served as a mosque for a time, and is now a museum. Go there to admire the towering spires, impressive dome, and intricate architectural details that make this one of the most beautiful structures in the world.

The
Blue Mosque is another gorgeous building, known for the blue tiles that adorn its interior. Because it still serves as an active mosque, it is closed to non-Muslims during daily prayers, so you may have to wait a while before entering.

If you're a history buff, make sure you put a stop at the Istanbul Archaeology Museums on your itinerary. These three buildings house exquisite artifacts from the Ottoman Empire as well as other places and periods throughout history.

You might appreciate seeing the Basilica Cistern, an underground marvel and the largest cistern in Istanbul. More than 300 columns support it. It's a great place to go in the summer if you want to escape the heat and get a glimpse of a unique structure.

Like to shop? Istanbul's Grand Bazaar takes place daily, and you could easily spend an entire vacation exploring everything it has to offer. It covers 50 streets, and there are more than 5,000 shops on offer. Hundreds of thousands of people visit every day. The domed hall at the center of the bazaar is where you will find the most valuable items.

For a new perspective on the city, climb the Galata Tower, which offers 360-degrees views that will leave you breathless and reaching for your camera.


Hotels in Istanbul
The variety of hotels in Istanbul offers accommodations for those who want to indulge. For a luxurious treat, stay at the InterContinental Istanbul, which boasts great views and a central location. Enjoy a delicious meal at one of the property's four restaurants, unwind with a delightful spa treatment, and ask the concierge for recommendations so you can enjoy every moment of your time in this gorgeous city.

Hotels in Turkey also include lodging options that make a good match for frugal travelers. Holiday Inn Istanbul offers a great value. From there, it is easy to hop on a train to get to the city's best attractions. If you're renting a car, you can leave it at the hotel and take advantage of the complimentary parking.

The Holiday Inn Istanbul Airport is a great option if your flight arrives late at night and you want a convenient place to spend your first night in the city. It is close to a couple of malls, too, so you can get started on your vacation shopping right away.


Where to Stay
The Golden Horn, a large estuary, serves as an informal boundary line in Istanbul. If you stay south of it, you'll be in the historic part of the city. There are plenty of budget hotels there, as well as attractions such as Hagia Sophia and the Blue Mosque. The area north of the Golden Horn is a little more modern. Taksim, a popular neighborhood for tourists, is north of the Golden Horn.

You may find cheaper accommodations at Turkey hotels on the fringes of Istanbul or just outside its borders.


How to Get to Istanbul
When you're traveling to Istanbul, you'll probably fly to Istanbul Ataturk Airport. You can rent a car at the airport. However, if you would prefer to take public transportation, you may take a bus or a sea bus. Taxis are also easy to catch.

Istanbul is a fascinating city that combines the beauty of different cultures and religions. The time you spend here will provide you with treasured memories for years to come.


+ View More
- View Less
Displaying 11 Hotels in

Istanbul
More IHG Hotels in Istanbul, Turkey
Holiday Inn Istanbul City
Make the most of easy access to Istanbul's efficient tram system to reach attractions like the Blue Mosque and Grand Bazaar in minutes. If you're driving to Holiday Inn Istanbul City you can leave your vehicle in our large complimentary car park.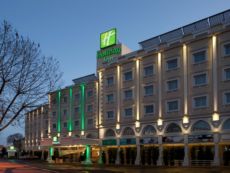 Turgut Ozal Cad No 189, Topkapi, Istanbul, 34280, Turkey
Hotel Reservations : 1 877 424 2449 | Hotel Front Desk : 90-212-5309900
InterContinental Istanbul
InterContinental Istanbul is the ideal base from which to explore this Ottoman capital's endless historic sites, museums, restaurants, night clubs and shops. Located in Taksim commanding stunning Bosphorus views, this hotel is a short walk from Dolmabahce Palace and the Istanbul Congress Centre with the historic town nearby Bosphorus strait joining Europe and Asia.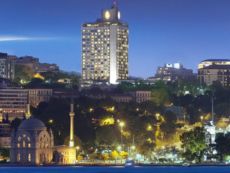 Asker Ocagi Caddesi No. 1, Istanbul, 34435, Turkey
Hotel Reservations : 1 877 424 2449 | Hotel Front Desk : 90-212-3684444
Crowne Plaza Istanbul - Harbiye
Brand new building constructed with the latest technology which provides utmost comfort and safety. Perfect location for both business and leisure purposes.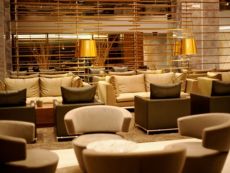 Dolapdere Caddesi No.161, Sisli, Istanbul, 34375, Turkey
Hotel Reservations : 1 877 424 2449 | Hotel Front Desk : 90-212-2916080
Holiday Inn Istanbul - Sisli
Situated in Sisli, the very heart of the booming business and financial district of Istanbul, Holiday Inn Sisli is not only exceptionally close to the city's major business and trade complexes but also to the Istanbul Convention & Exhibition Center (Lütfi Kırdar).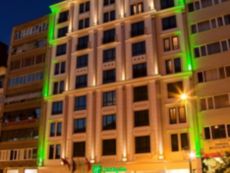 Halaskar Gazi Caddesi, 19 Mayis Mahallesi No 206, Istanbul, 34360, Turkey
Hotel Reservations : 1 877 424 2449 | Hotel Front Desk : 90-212-3733800
Holiday Inn Istanbul - Kadikoy
There's no better place to be in Asian side of Istanbul. With the easy access links to Europen side. The location makes it very easy to explore and travel both for leisure and business guests in the downtown of Kadikoy. Feel yourself like at home with our new open lobby concept. Relax and refresh in our health club with Turkish bath, sauna, steam room or unwind with a relaxing massage.
Book for Dec 15 Arrivals
Poyraz Sokak & Omer Bey Cikmazi, Egitim Mahallesi - Kadikoy, Istanbul, 34722, Turkey
Hotel Reservations : 1 877 424 2449 | Hotel Front Desk : 90-216-3391111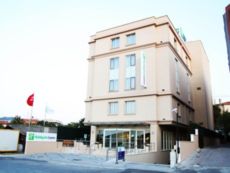 Altunizade Mahellesi, Oymaci sok. No. 18, Istanbul, Turkey
Hotel Reservations : 1 877 424 2449 | Hotel Front Desk : 90-216-6519191
Holiday Inn Istanbul Airport
Ataturk Intl Airport is just a few minutes with our shuttle bus, available to both the airport & city centre, it connects you to/from the hotel. International arrival to B gate your shuttle is ready to the hotel. It's the perfect base for business, helping you avoid city traffic. Malls are close to our hotel such as 212 Power Outlet ,Mall Of Istanbul.Enjoy complimentary Wi-Fi throughout the hotel.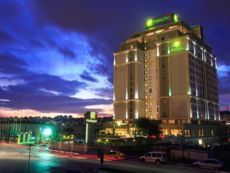 Mahmutbey Mah., Tasocagi Yolu Cad. No 35, Istanbul - Bagcilar, 34217, Turkey
Hotel Reservations : 1 877 424 2449 | Hotel Front Desk : 90-212-6041500
Crowne Plaza Istanbul - Florya
Crowne Plaza Istanbul Florya Hotel on the spectacular environment of Istanbul s magnificent seashore. You may reach the beauties of historic old city within 30 minutes or enjoy the largest aquarium of Europe and hi end shopping mall in a walking distance.Relax at our indoor outdoor swimming pool and SPA facilities or enjoy the breath taking views of Marmara Sea.
Book for Jan 12 Arrivals
Yesilkoy Halkali Caddesi No: 95, Senlikköy Mahallesi, Istanbul, 34290, Turkey
Hotel Reservations : 1 877 424 2449 | Hotel Front Desk : 90-212-5745909
Holiday Inn Express Istanbul Airport
Our hotel is located just 4 kilometers away from the Istanbul Ataturk Airport also very well connected with major corporate headquarters such as Mercedes Benz, Vodafone as well as with CNR Expo and industrial zones. There are free shuttle services to the airport at certain times. After a good night sleep you can have a great start of your day with our complimentary Express Start Breakfast.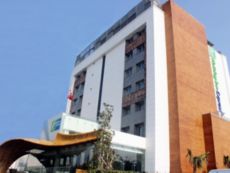 Basin Ekspress Yolu No 2, Halkali, Istanbul, 34303, Turkey
Hotel Reservations : 1 877 424 2449 | Hotel Front Desk : 90-212-5484488
Crowne Plaza Istanbul - Oryapark
Crowne Plaza Istanbul Oryapark, is in the center of the Asian side business center and in walking distance to international companies headquarters. It has access from Sabiha Gokcen Airport as well as Ataturk Airport easily and a perfect venue for both business and leisure travellers.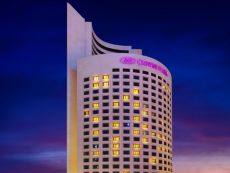 Inkilap Mahallesi, Kucuksu Caddesi, No:58, Istanbul, 34768, Turkey
Hotel Reservations : 1 877 424 2449 | Hotel Front Desk : 90-216-6666400
Crowne Plaza Istanbul - Asia
The hotel is part of a 310,000 sq m open air concept Viaport Outlet Shopping Mall. Viaport has 188 luxury stores that are upscale name brands, restaurants, and unlimited entertainment options such as a cinema, a 5D cinema, carting, ATVs, bowling, riding and an amusement park. This hotel's location is in Pendik and visitors it is within 5 minutes of the Sabiha Gokcen International Airport (SAW).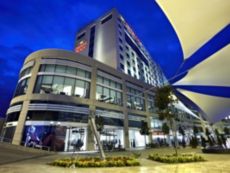 Yenisehir Mah. Dedepasa Cad. No. 15, Kurtkoy- Pendik, Istanbul, Turkey
Hotel Reservations : 1 877 424 2449 | Hotel Front Desk : 90-216-5856060