Madrid Hotels
Madrid, the Spanish capital since the 16th century, is a city that embraces its glorious past even as it celebrates its promising future as one of Europe's crown jewels. The home of Emperor Carlos V, Madrid was the seat of power of one of the largest global empires in history, and remnants of its majesty remain throughout the city.

Perhaps Madrid's most impressive cultural legacy is its art collections of both early masters and contemporary artists. The Prado, one of the most visited sites in Europe, contains the finest collection of Spanish art in the world, as well as one of the most comprehensive collections of European art from the 13th through 19th centuries. The Reina Sofia is world famous for its contemporary art. Smaller yet no less impressive museums, such as the CaixaForum and the Lazaro Galdiano, are also definitely worth exploring.

The juxtaposition of the city's iconic red-tiled roofs and cobblestone streets with gleaming modern skyscrapers is yet another element of the charm of Madrid. The old and the modern coexist beautifully in this thriving and bustling city; you can find Madrid hotels with every level of amenity and comfort for the perfect Spanish vacation.


Things to See
Madrid is famous for the ancient art of bullfighting, which dates back to Spain's pagan origins. Travel to Ventas where the country's largest plaza de toros is located. Tickets are available "sunny side" (sol) or located in the shade (sombra). The best time to visit for watching a bullfight is during the month of
May, when the city celebrates the San Isidro fiestas. Look for hotels in Madrid near the Salamanca district to be close to the excitement.

Spain is famous for tapas, and a tasca crawl is definitely in order. Tascas, or tapas bars, are everywhere and feature exotic ingredients such as bull testicles and lamb sweetbreads in addition to classic favorites such as shrimp, chorizo, and gazpacho. Wander along Ventura de la Vega or Calle de Cuchilleros for an authentic tasca experience.

The Rastro, Madrid's huge market dating back to the 16th century, is an experience for travelers who love the haggling to and fro of bargain shopping with local merchants. You'll find everything from antiques to used clothing to religious relics and tchotchkes. The Rastro is located on the Calle Ribera di Curtidores; get there early and be prepared for jostling crowds.

Spend a day exploring the glorious gardens and museums in Parque de Retiro, a favorite of Queen Isabella. Sunday mornings are the most interesting, with fortune tellers and magicians delighting visitors, and lazy pleasure boats gliding along the lake. Some of the finest hotels in Spain are found near stately Retiro park.

Not for the faint-hearted, Madrid's nightlife is something that must be experienced to be believed. The clubs are wild, chaotic, exuberant, and exciting. It's also not for early birds; the action rarely starts before midnight and goes all night long.


Hotels in Madrid
Peak season in Madrid is May and October, when the weather is mild and festivals and events take place that draw crowds. Expect to pay a premium for rooms in Madrid hotels during these two months.

In August, hotels in Madrid, as with other Spain hotels, empty out; August is the traditional vacation month for Madrilenos, and many restaurants and shops close down for the month. Tourists can find bargains in the Madrid hotels that stay open in August.

Fiestas and public holidays for the saints are facts of life for residents of every Spanish city, no matter how large or small. For Madrid, it's the fiestas for Saint Isidro during the month of May. Bring plenty of cash, because banks close during major celebrations.

Madrid is a major European capital; you'll have no trouble finding hotels in Madrid that suit any budget in the neighborhoods closest to the most popular attractions. As with most hotels in Spain, Madrid hotels are staffed with multilingual professionals, many of whom are proficient in English.


Where to Stay
Madrid has two major areas of interest for tourists: The old city center, which includes Puerta del Sol and the Gran Via, and the Ensanche, which includes the post-18th century areas such as Castellana Avenue, Salamanca, and the Chamartin district. Depending on your expectations for your Madrid vacation and hotels in Madrid, you can find ideal lodgings in either of these areas.

Bario de las Letras is popular with tourists; it's named for the many writers who made this district their home. Plaza Mayor is the tourist hub and home to some of the most popular hotels in Madrid. You'll find everything from churches to cafes and everything in between.

Plaza de Espana is the heart of Madrid, intersected by the Gran Via, the city's main artery. You'll find upscale restaurants, shops, and cinemas, as well as the corporate headquarters of major international corporations.

In the Ensanche, the city's gardens and fabled museums draw huge numbers of visitors from all over the world. Some of the finest hotels in Madrid are in the Salamanca and Chamartin districts.


How to Get to Madrid
Barajas, the international airport in Madrid, is about 9 miles east of the city. The cheapest transportation from the airport to Madrid hotels is by bus. Buses depart every 15 minutes and take about 40 minutes to arrive in the city center. Taxis are also an option, but expect to pay handsomely for the privilege. The subway is another low-cost option, but it is less than friendly to tourists carrying luggage; the bus is the most efficient and economical option.

If you are arriving by train from another European destination, you'll end up at one of two Madrid stations: Atocha or Chamartin. Depending on where your hotel in Madrid is located, you can walk or take a bus or subway to your final destination.

InterContinental Hotel Group (IHG®) has Madrid hotels in the city's most attractive neighborhoods and close to the most popular attractions. Browse the IHG® property listings today to find the best hotel for your Madrid vacation.


+ View More
- View Less
Displaying 14 Hotels in

Madrid
More IHG Hotels in Madrid, Spain
Hotel Indigo Madrid - Gran Via
85 stylish and fully equipped rooms on 13 floors are waiting for our guests. Complimentary WIFI and Nespresso coffee machine in all rooms. Enjoy the local food in our Gastrobar & Restaurant. Enjoy a sunbath at our outdoor pool open on summer season (from 15th June till 20th September), and discover the night skyline whilst sipping a cocktail from the rooftop terrace.
Calle Silva 6, Madrid, 28013, Spain
Hotel Reservations : 1 877 424 2449 | Hotel Front Desk : 34-91-2008585
Holiday Inn Madrid - Piramides
Holiday Inn Madrid Pirámides is a bright and friendly hotel ideal for all travelers due to its city center location. Its comfortable rooms are totally equipped, while its meeting rooms offer versatile spaces suitable for any personal or professional event.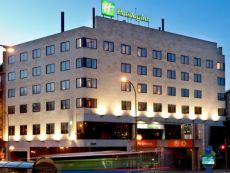 Paseo De Las Acacias, 40, Madrid, 28005, Spain
Hotel Reservations : 1 877 424 2449 | Hotel Front Desk : 34-91-5171828
InterContinental Madrid
The InterContinental Hotel Madrid features a 400m2 Royal Suite with a magnificent terrace and breathtaking views of the Paseo de la Castellana, providing the perfect setting for private events, with custom dining and lounge furniture.
Paseo De La Castellana 49, Madrid, 28046, Spain
Hotel Reservations : 1 877 424 2449 | Hotel Front Desk : 34-91-7007300
Holiday Inn Madrid - Bernabeu
Holiday Inn Madrid boasts some of the largest meeting facilities in the city centre, with capacity for up to 500 people. Even more expansive conference spaces at the Palacio de Congresos de Madrid and the Santiago Bernabeu stadium are conveniently a few minutes' walk away.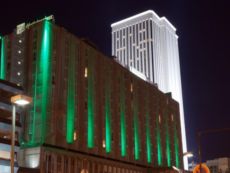 Plaza Carlos Trias Bertran 4, Madrid, 28020, Spain
Hotel Reservations : 1 877 424 2449 | Hotel Front Desk : 34-91-4568000
Holiday Inn Madrid - Calle Alcala
Located on one of the city's main thoroughfares, features 261 comfortable guest rooms, including, double, twin, executive and Junior Suite rooms, all offering private en-suite bathroom facilities. Our 17 meeting rooms, the restaurant and our Bar-Café, complete the services and amenities essential to a four star hotel. Recomended for both business and leisure travellers to Madrid.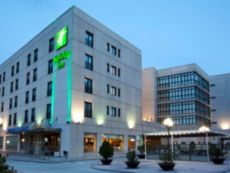 Calle De Alcala, 476, Madrid, 28027, Spain
Hotel Reservations : 1 877 424 2449 | Hotel Front Desk : 34-91-3756800
Holiday Inn Express Madrid - Alcorcon
Book Holiday Inn Express Madrid-Alcorcon's good-value Parque Warner Madrid Package to get discounted day tickets to the movie-based theme park. You can ride on the floorless rollercoaster and meet cartoon characters, all just 30km from the hotel.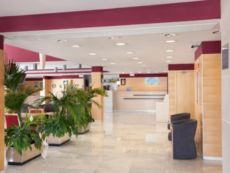 Calle Argentina S/N, Alcorcon, Madrid, 28922, Spain
Hotel Reservations : 1 877 424 2449 | Hotel Front Desk : 34-91-2114800
Holiday Inn Madrid - Las Tablas
Holiday Inn Madrid - Las Tablas provides the highest quality level both in its installations such as covered parking, full 24 hours gym and sauna, modern and welcoming lobby bar and restaurant where enjoy The Mediterranean gastronomy, as well as its services like free WIFI and free shuttle service between hotel, airport and local companies nearby to the corporate or family guest.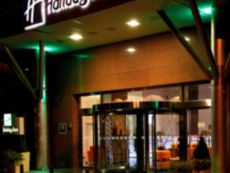 Calle Maria Tubau, 16, Madrid, 28050, Spain
Hotel Reservations : 1 877 424 2449 | Hotel Front Desk : 34-91-3586400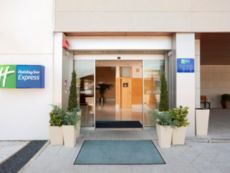 Esquina Calle Metalurgia 1-3, Alcobendas, Madrid, 28108, Spain
Hotel Reservations : 1 877 424 2449 | Hotel Front Desk : 34-91-2932700
Crowne Plaza Madrid Airport
Book your stay at the Crowne Plaza Madrid Airport your wellbeing is our priority. Room service and customized design. Suites with Jacuzzi . Do not forget to ask about our romance package rates or long term parking during the trip. The best for the success of your celebrations, events and meetings. Here begins your way.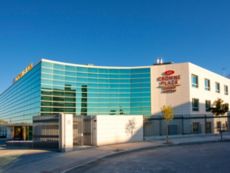 C/Lola Flores,1, Madrid, 28022, Spain
Hotel Reservations : 1 877 424 2449 | Hotel Front Desk : 34-91-2063410
Holiday Inn Express Madrid - Rivas
Under-18s stay with 2 adults for free in a Family room at Holiday Inn Express Madrid-Rivas. Our Warner Package includes tickets to Parque Warner Madrid.
Avenida de la Tecnica 8, Madrid, 28522, Spain
Hotel Reservations : 1 877 424 2449 | Hotel Front Desk : 34-91-2121250
Holiday Inn Express Madrid - Leganes
Take the family to Parque Warner Madrid, 15km from Holiday Inn Express Madrid-Leganes. Children up to 18 stay free when sharing a room with their parents. Only at 20 minute ride.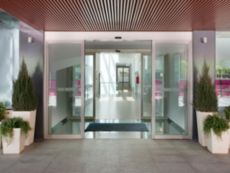 Avda. De La Recomba, 11, P.I. La Laguna, Leganes, Madrid, 28914, Spain
Hotel Reservations : 1 877 424 2449 | Hotel Front Desk : 34-91-6008060
Avenida Rio Guadalquivir 17, Getafe, Madrid, 28906, Spain
Hotel Reservations : 1 877 424 2449 | Hotel Front Desk : 34-91-6240450
Holiday Inn Express Madrid-San Sebastian d/l Reyes
Stay at Holiday Inn Express Madrid-San Sebastian de los Reyes for 2 nights and you can leave your car parked securely for a week with our Park, Stay and Go Package. Ask about our Parque Warner Madrid Package for complimentary parking and discounted entry to the theme park.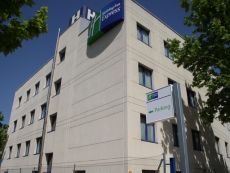 Avenida De Los Pirineos S/N, Madrid, 28700, Spain
Hotel Reservations : 1 877 424 2449 | Hotel Front Desk : 34-91-6259000
Holiday Inn Express Madrid - Tres Cantos
Children up to 18 stay free when sharing a room with their parents. Holiday Inn Express Madrid-Tres Cantos is located in the new community of Tres Cantos, designed and built with high living standards. Modern technological and business parks merge with a serene, rural landscape. The hotel's design reflects this mix of technology and beauty.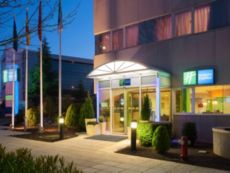 Ronda De Poniente, 16, Tres Cantos, Madrid, 28760, Spain
Hotel Reservations : 1 877 424 2449 | Hotel Front Desk : 34-91-8039900